The Responsorial Psalm at Mass today reminds us that "a sacrifice of praise" is integral to the worship of God.
In Psalm 116, the speaker is praising God particularly because God has listened to his prayers and saved him when he was in great need and distress. How often do we remember the fate that would await us if it wasn't for the salvific act of Christ on the Cross? And do we give praise to God for our deliverance? How often do we take a moment to praise God for our health, for our loved ones? Even the little blessings we experience, like a hug from a friend or a warm bed, are occasions to praise God.
But beyond what God has done for us, he deserves our prayer simply because he is God! The Catechism of the Catholic Church tells us that "Praise is the form of prayer which recognizes most immediately that God is God." (2639) Though the psalmist in today's readings has gone through hard times, he does not rail against God. He realizes that God is God, and he deserves worship; a "sacrifice of praise."
The little vexations in our daily lives can be useful when it comes to developing an attitude of praise to God, especially when things don't go our way.
This morning, after coming in from the frosty January chill, I made homemade hot chocolate. After whipping the ingredients into a frenzy, I popped a mug of the mixture into the microwave to heat it and to create a nice, thick topping of foam. Distracted for a moment, I turned back to the microwave to see that my cup runneth over! Hot chocolate foam was boiling all over the inside of my microwave.
Moments of frustration like this one can train us to become people of praise! When things go awry, we can curse, we can complain, or we can say, "Praise God!"
When my cocoa was ruined, praising God was not my first impulse! I was ticked off. I felt betrayed. I was hungry and cold, and-it-was-such-a-gloomy-day-and-I-just-went-to-Mass; aren't I virtuous; don't I deserve a reward!? But in situations like this, when we choose to speak out the simple words, "Praise you Lord!" with as much sincerity as we can muster, our attitude changes. We remember that, actually, we don't "deserve," and that we are called to love and serve God whether things go our way or not.
When we practice praising God during these seemingly insignificant moments of frustration, this kind of spiritual exercise eventually translates into life-long faithfulness and a docility to the will of God. In other words, it makes us like Christ, who, "though he was in the form of God, did not regard equality with God something to be grasped." (Philippians 2:6)
The Catechism says that we owe God honor and glory "simply because HE IS," (emphasis added by author) not because he has behaved in a way that we think God should. No matter what happens in our day, or in our life, God is God and he deserves our praise.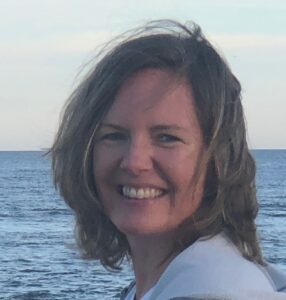 Christine Hanus is a thwarted idealist who, nevertheless, lives quite happily in Upstate NY. She is a wife and mother of five grown children.
Feature Image Credit: Mockup Graphics, https://unsplash.com/photos/AIkFaeX9ILc