My husband and I had an arranged marriage. Kind of. In the course of my life-long faith in Christ, there have only been a couple of times I "heard" Him speak clearly to me. The most remarkable occasion was when the Lord showed me who I would eventually marry—a man who was little more than an acquaintance at the time. I said to my friend later that evening, "How am I going to marry him? I don't even love him!" My deep and enduring love for my husband started in part with the conviction that he was the man Jesus had chosen for me. Our sacramental marriage lived out over the years did the rest.
In today's Gospel, those of us who want to be part of the kingdom of God are commanded to love the Lord. This can seem a little strange, because it contradicts the modern view of love which tends to define love as a sweeping, uncontrollable force which comes and goes. But we Christians look to Christ who shows us that true love has more to do with an act of the will than the experience of all-consuming feelings. Love is a decision.
Whether or not we have loving "feelings" that accompany a relationship with God, He is expecting us to make an act of the will to choose to love Him. We trust that, along the way, our love for him will grow and deepen until we long to be fully united with Him forever. And the love we are called to is not a half-hearted, anemic kind of love. We are to love God with all of our heart, all of our soul, all of our mind, and all of our strength. It is an all-in kind of love he is asking for, even when we just ain't feelin' it.
While following this Great Commandment is more than just lip-service, it can be baffling to know how to love God. In the Scriptures, we are given Godly guidance on the subject. Today's Gospel reading, in fact, goes on to say that the second greatest commandment is to "love your neighbor as yourself." It isn't a suggestion, it is another command that is inextricably linked to the first command. As a matter of fact, it is a fruitful cycle: loving God leads to loving others, loving others leads to loving God more!
Jesus issues many other commands and warnings, all of which help us know how to love God. For example, He charges us to share the Gospel message with others (Mt 28:19-20), to pray with confidence (Mt 7:7), to do good to our enemies (Lk 6:35), to carry our crosses Lk (14:27), and to radically avoid sin (Mt 18:8). He instructs us not to fear (Lk 12:32), to be humble (Lk 14:11), and to celebrate the Eucharist (Lk 22:19). Meditating on Jesus' teachings and discovering how the Church has lived them out for over 2000 years offers us myriad ways to live a life of love.
Elsewhere in Scripture, Jesus said, "If you love me you will keep my commandments." It is remarkable how many times in the Gospels that Jesus commands us to act or not to act in a certain way. When we follow the commands of Christ, we demonstrate, by our actions, that we love Him. Before we know it, we will wake up one morning, look at Our Lord and realize that we are head over heels in love.
---
Mi esposo y yo tuvimos un matrimonio arreglado, bueno de alguna forma. En el curso de mi fe en Cristo de toda la vida, solo ha habido un par de veces que "escuché" que me hablaba claramente. La ocasión más notable fue cuando el Señor me mostró con quién me casaría: un hombre que era poco más que un conocido en ese momento. Le dije a mi amiga un poco más tarde esa noche: "¿Cómo voy a casarme con él? ¡Ni siquiera lo amo!". Mi amor profundo y duradero por mi esposo comenzó en parte con la convicción de que él era el hombre que Jesús había elegido para mí. Nuestro matrimonio sacramental vivido a lo largo de los años hizo el resto.
En el evangelio de hoy, a los que queremos ser parte del reino de Dios se nos manda amar al Señor. Esto puede parecer un poco extraño, porque contradice la visión moderna del amor que tiende a definir el amor como una fuerza arrolladora e incontrolable que va y viene. Pero los cristianos miramos a Cristo que nos muestra que el verdadero amor tiene más que ver con un acto de la voluntad que con la experiencia de sentimientos que todo lo consumen. El amor es una decisión.
Ya sea que tengamos o no "sentimientos" de amor que acompañan una relación con Dios, espera que hagamos un acto de voluntad para elegir amarlo. Confiamos que, en el camino, nuestro amor crecerá y se profundizará hasta anhelar estar plenamente unidos a él para siempre. Y el amor al que estamos llamados no es un amor a medias. Debemos amar a Dios con todo nuestro corazón, toda nuestra alma, toda nuestra mente y todas nuestras fuerzas. Pide un tipo de amor integral incluso cuando simplemente no lo sentimos.
Si bien seguir este Gran Mandamiento es más que solo palabrería, puede ser desconcertante saber cómo amar a Dios. En las Escrituras, se nos da una guía divina sobre el tema. La lectura del Evangelio de hoy, de hecho, continúa diciendo que el segundo gran mandamiento es "amar a tu prójimo como a ti mismo". No es una sugerencia, es otro mandamiento que está indisolublemente ligado al primero. De hecho, es un ciclo fructífero: ¡amar a Dios lleva a amar a los demás, amar a los demás lleva a amar más a Dios!
Jesús emite muchos otros mandatos y advertencias, todos los cuales nos ayudan a saber cómo amar a Dios. Por ejemplo, nos encarga compartir el mensaje del Evangelio con los demás (Mt 28, 19-20), orar con confianza (Mt 7, 7), hacer el bien a nuestros enemigos (Lc 6, 35), llevar nuestras cruces Lc (14,27), y evitar radicalmente el pecado (Mt 18,8). Nos instruye a no tener miedo (Lc 12,32), a ser humildes (Lc 14,11) y a celebrar la Eucaristía (Lc 22,19). Meditar en las enseñanzas de Jesús y descubrir cómo la Iglesia las ha vivido durante más de 2000 años nos ofrece innumerables formas de vivir una vida de amor.
En otra parte de las Escrituras, Jesús dijo: "Si me amáis, guardaréis mis mandamientos". Es notable cuántas veces en los Evangelios Jesús nos ordena actuar o no actuar de cierta forma. Cuando seguimos los mandamientos de Cristo, demostramos, por nuestras acciones, que lo amamos. Antes de que nos demos cuenta, nos despertaremos una mañana, miraremos a Nuestro Señor y nos daremos cuenta de que estamos locamente enamorados.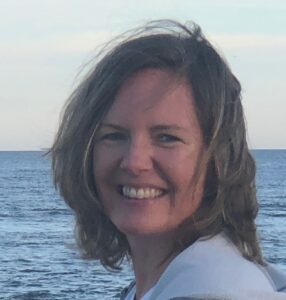 Christine Hanus currently lives in Upstate, NY. Though she enjoys writing and her work as a catechist, Christine is primarily a wife, mother, and more recently, grandmother!
Feature Image Credit: Tim Marshall, unsplash.com/photos/cAtzHUz7Z8g