Jesus said to his disciples: "Amen, amen, I say to you, you will weep and mourn, while the world rejoices; you will grieve, but your grief will become joy. When a woman is in labor, she is in anguish because her hour has arrived; but when she has given birth to a child, she no longer remembers the pain because of her joy that a child has been born into the world. So you also are now in anguish. But I will see you again, and your hearts will rejoice, and no one will take your joy away from you. On that day you will not question me about anything. Amen, amen, I say to you, whatever you ask the Father in my name he will give you."
The pain of life is temporary.
The relief of joy will be everlasting.
Christ invites us into the messiness and struggle of growing in holiness.
When we lose sight of the purpose of the struggle, it can just feel like torture: pain without a positive end. Our suffering is meant to bring new life, like a mother for her child, except this new life will be us becoming more of who we are meant to be.
"you will weep and mourn while the world rejoices; you will grieve, but your grief will turn to joy."
This passage reminds me of my job as a Direct Service Professional (a.k.a. a mentor to individuals who have intellectual and developmental disabilities). It is a cycle of mourning and rejoicing.
Some days, the folks for whom I provide support say something so heart warming that it renders me speechless. Other days, the stark reality sets in that many of the families, with a child who has autism or any other diagnosis, live a life isolated from other people.
I'm not always aware of the ebbs and flows from grief to joy and back again. I have a mystical sense that I am with Christ when I am working. Those who walked with the man 2,000 years ago experienced the highs and lows of following Him, but there is no better place to be than by His side.
"no one will take your joy from you."
Trust that what He says is true.
And take the risk to believe it.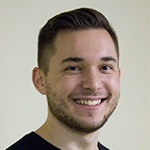 During the week, Matthew Juliano is a mentor for individuals who have developmental and intellectual disabilities. On the weekends, he is a drummer for Full Armor Band. You can find more content by Matt and his band at www.fullarmorband.com.