I love Jesus. And the older I grow, the more I grow in understanding of Him and love of Him.
Despite my failings, He continues to transform from the historic, static figure that I knew as a child into a living and relatable person.
After reading this passage, I like to imagine being around Jesus at church or a party and just sharing small talk about the weather. "Hey Jesus, are you freezing too?! Man, It went from summer to winter back to fall to winter again in a week." "Right?! My toes are freezing. I need to get real shoes."
I would love to share quality time with Jesus, maybe sharing a drink with Him… and if we run out, we don't have to run to the store.
The Gospels hit the highlights of Jesus' life. They're like a Facebook feed of His life: just the important parts. But there's far more of His life that is undocumented in the Gospels.
In Mel Gibson's The Passion of the Christ, there is a scene that shows Jesus building a table at Mary's home. They laugh playfully together as they test His new item. He lived this life. He knows our experience. He knows what it feels like to be sweaty and uncomfortable. He knows what it's like to taste the deliciously cooked food and taste good wine.
He knows especially our struggle. I think that's why I want to imagine sharing small talk about the weather or some other shared experience because I know He can relate. That's usually why we share small talk, so we can make a connection with another person.
For we do not have a high priest who is unable to sympathize with our weaknesses, but one who has similarly been tested in every way, yet without sin. So let us confidently approach the throne of grace to receive mercy and to find grace for timely help.
Jesus, He lived it; He gets it.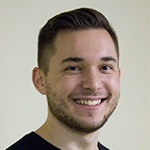 During the week, Matthew Juliano is a mentor for individuals who have developmental and intellectual disabilities. On the weekends, he is a drummer for Full Armor Band. You can find more content by Matt and his band at www.fullarmorband.com.