My friend died two years ago and I'm still sad. I sometimes wonder if it will ever not cause me a startle when I think about it. It's still surreal; as if it happened to someone else. This is my first experience of death of someone near to me so I'm in new waters and sometimes I wonder if they will ever be calm.
The first reading from Wisdom seems sent from God to comfort those of us still living who may feel like the proverbial rug has been pulled out from underneath us. In this passage God is comforting and assures us that it's okay. Our loved ones didn't cease to exist. They are at peace. It is during times of death that I wonder how people who don't have faith do it. Knowing that those I love are not gone to oblivion but are instead with God brings comfort.
When saying good-bye just a few days before he died, I told my friend I expected him to meet me at the gates of heaven with a boom box playing "Africa." We always listened to that song when my husband and I had dinner with him and his wife. He was the first person I met who loved it as much as I did. I believe that in some way he is the lucky one. He has already accomplished what we all strive for – being in heaven with our Lord. I believe that one day the four of us will laugh and listen to music again because I believe what Scripture says, "the faithful shall abide with him in love." (Wis 3:9)
Secular society may see death as an end or even a punishment, but we the faithful know that it is the beginning and that in dying we will be in the hands of God and we "shall shine, and shall dart about as sparks through stubble."
We won't stop missing those we love but if love is willing the good of the other, it will bring us comfort to know that even though they aren't with us, they are with God, who loves them even more than we do, and that they are at peace. They are good. It's okay.
---
Mi amigo falleció hace dos años y todavía estoy triste. A veces me pregunto si alguna vez no me causará un sobresalto cuando lo pienso. Todavía parece surreal; como si le hubiera pasado a otra persona. Es mi primera experiencia de la muerte de alguien muy cercano, así que estoy navegando por aguas nuevas y, a veces, me pregunto si alguna vez estarán tranquilos.
La primera lectura de Sabiduría parece ser enviada por Dios para consolar a los que aún vivimos y que podemos sentir que nos han quitado la alfombra por debajo de los pies. En este pasaje, Dios nos consuela y nos asegura que está bien. Nuestros seres queridos no dejaron de existir. Ellos están en paz. Es durante los tiempos de la muerte que me pregunto cómo lo hacen las personas que no tienen fe. Trae consuelo saber que los que amo no se han ido al olvido sino que están con Dios.
Al despedirme de mi amigo unos días antes de que falleciera, le dije que esperaba que me encontrara en las puertas del cielo con un estéreo portátil tocando "África". Siempre escuchábamos esa canción cuando mi esposo y yo cenábamos con él y su esposa. Fue la primera persona que conocí que le encantaba tanto como yo. Creo que de alguna manera él es el afortunado. Ya ha logrado lo que todos buscamos: estar en el cielo con nuestro Señor. Creo que algún día los cuatro nos reiremos y escucharemos música nuevamente porque creo lo que dice la Escritura, "los que son fieles a su amor permanecerán a su lado". (Sab 3,9)
La sociedad secular puede ver la muerte como un final o incluso un castigo, pero nosotros, los fieles, sabemos que es el comienzo y que al morir estaremos en las manos de Dios y "brillarán los justos como chispas que se propagan en un cañaveral. " (Sab 3,7)
No dejaremos de extrañar a los que amamos pero si el amor es querer el bien del otro, nos consolará saber que aunque no estén con nosotros, están con Dios, que los ama aún más que nosotros, y que estén en paz. Ellos están bien. Todo tranquilo.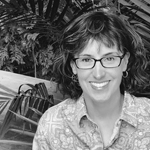 Merridith Frediani loves words and is delighted by good sentences. She also loves Lake Michigan, dahlias, the first sip of hot coffee in the morning, millennials, and playing Sheepshead with her husband and three kids. She writes for Catholic Mom, Diocesan.com, and her local Catholic Herald. Her first book Draw Close to Jesus: A Woman's Guide to Adoration is available at Our Sunday Visitor and Amazon. You can learn more at merridithfrediani.com.
Feature Image Credit: Aaron Burden, unsplash.com/photos/BTubi6qaY6Q