I'm not sure what I was up to when I was a kid but I recall having frequent cuts and scrapes that required my body to produce scabs. My mom told me not to pick at them to avoid scars but to my childhood mind, scars were irrelevant. More interesting were these scratchy patches on my arms and legs that indicated healing and were fun to mess with. The healing process slowed way down when the scab was picked off but there was satisfaction in doing it anyway.
What does this have to do with forgiveness? In today's Gospel Jesus instructs us to forgive from our heart reminding us that forgiveness is a head thing as well as a heart thing. Announcing to myself that I forgive a person is only part of the process. The second part, forgiving from my heart means I have to stop picking at the scab from the wound. That's less easy.
Scabs serve a useful purpose in protecting what was damaged while it heals but they also are a reminder of the wound and are especially annoying when they itch or crack or otherwise cause us to notice they are there. When someone hurts us it's part of our human nature to roll around in that hurt; replaying it in our mind, maybe even making it bigger than it was. There is satisfaction in staying in that place. There can be a sense of justified victimhood and gleeful self pity. "Look at me. Look what happened to me. I am hurt. See my scar. Look what I survived."
When we dwell on the hurt, when we pick the emotional scab, we are slowing down the forgiveness and healing process and hurting ourselves in the end. It's like opening a slow cooker. Each time you do, you add a half hour to the cooking time. Each time you pick that scab, you add healing time and you spend longer feeling bad.
The answer lies with Jesus. When we show him our wound and tell him how the scab is bothering us, he helps us. I'm convinced that fully forgiving someone from the heart is only possible with the help of our Lord. That pesky scab is just too tempting. But if we give it to him and take the time needed for healing, it will happen and we will forgive as he asks us to. We will also avoid scars that prevent us from loving. We will forgive with and from a heart that is centered on Jesus. But first we need to go to him. He is waiting.
---
No estoy seguro de lo que hacía cuando era niña, pero recuerdo tener cortes y raspaduras frecuentes que requerían que mi cuerpo produjera costras. Mi mamá me dijo que no me los tocara para evitar las cicatrices, pero en mi mente de niña, las cicatrices eran irrelevantes. Más interesantes fueron estos parches ásperos en mis brazos y piernas que indicaban curación y era divertido jugar con ellos. El proceso de curación se ralentizó mucho cuando se quitó la costra, pero hubo satisfacción en hacerlo de todos modos.
¿Qué tiene que ver esto con el perdón? En el Evangelio de hoy, Jesús nos instruye a perdonar de corazón recordándonos que el perdón es una cosa de la cabeza tanto como una cosa del corazón. Anunciarme a mí mismo que perdono a una persona es solo una parte del proceso. La segunda parte, perdonar de corazón significa que tengo que dejar de rascarme la costra de la herida. Lo cual no es tan fácil.
Las costras tienen un propósito útil para proteger lo que se dañó mientras se cura, pero también son un recordatorio de la herida y son especialmente molestos cuando pican o se agrietan o nos hacen notar que están allí. Cuando alguien nos lastima, es parte de nuestra naturaleza humana revolcarnos en ese dolor; repitiéndolo en nuestra mente, tal vez incluso haciéndolo más grande de lo que era. Hay satisfacción en permanecer en ese lugar. Puede haber una sensación de victimismo justificado y autocompasión alegre. "Mírame. Mira lo que me pasó. Estoy lastimado. Mira mi cicatriz. Mira lo que sobreviví".
Cuando nos detenemos en el dolor, cuando nos quitamos la costra emocional, estamos retrasando el perdón y el proceso de sanación y, al final, nos estamos lastimando a nosotros mismos. Es como abrir una olla de cocción lenta. Cada vez que lo haces, agregas media hora al tiempo de cocción. Cada vez que arrancas esa costra, agregas tiempo de curación y pasas más tiempo sintiéndote mal.
La respuesta está en Jesús. Cuando le mostramos nuestra herida y le contamos cómo nos molesta la costra, nos ayuda. Estoy convencida de que perdonar completamente a alguien desde el corazón solo es posible con la ayuda de nuestro Señor. Esa molesta costra es demasiado tentadora. Pero si se lo damos y nos tomamos el tiempo necesario para que sane, sucederá y perdonaremos como él nos lo pida. También evitaremos las cicatrices que nos impiden amar. Perdonaremos con y desde un corazón centrado en Jesús. Pero primero tenemos que ir a él. Nos está esperando.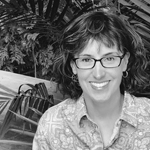 Merridith Frediani loves words and is delighted by good sentences. She also loves Lake Michigan, dahlias, the first sip of hot coffee in the morning, millennials, and playing Sheepshead with her husband and three kids. She writes for Catholic Mom, Diocesan.com, and her local Catholic Herald. Her first book Draw Close to Jesus: A Woman's Guide to Adoration is available at Our Sunday Visitor and Amazon. You can learn more at merridithfrediani.com.
Feature Image Credit: Alex Shute, unsplash.com/photos/b7QwXDDEwv8