It seems that only when our lives are turned upside down do we realize what is truly important. Only when what we deemed important is no longer there, do we understand that so many things are actually rather unimportant. So what IS important? While the answer may vary somewhat, a few things should not falter to us as Christians.
First and foremost, God is important. He is so important that we wouldn't exist without Him and our lives would be void of meaning. Secondly, people are important. Lately I have been reminded again and again about the importance of hospitality. It does not matter if someone breaks one of my kids' toys or spills on my carpet. What matters is that I am spending time with loved ones and welcoming them into my home. I am showing them that they matter to me and are not forgotten. Thirdly, what we do for/with God and for/with people is important. God has given us a set of Commandments to follow and Christ as a solid example to imitate. He has also given us people to interact with and share with. What is it that we share? How do we interact?
It all comes down to the importance we place on living for God alone. Is Christ truly my King? If He is my King then that implies that a whole lot of other people (and things) are not my king. There can only be one King. If devotedness is divided, chaos ensues and perhaps even betrayal.
Today's readings portray these thoughts so well. In the first reading, God promises to look after, tend, rescue, pasture, give rest to, seek out, bring back, bind up and heal his sheep. All of these words evoke tenderness and care, love and compassion. Then he says: "but the sleek and the strong I will destroy, shepherding them rightly." He lets us know that if we humble ourselves and allow Him to be King, He will care for us, but if we choose pride, he will discipline us.
The second reading similarly speaks of proper order, Christ first and then those who belong to Him. It also speaks of destroying every sovereignty, authority and power, and everything being subjected to Him, "so that God may be all in all". Once again, we are asked to step down from our soap boxes, our makeshift thrones, and allow Christ to govern us and guide us.
And lastly, the Gospel is the parable of the sheep and the goats, reminding us that whatsoever we do to others, we do it to God. "For I was hungry and you gave me food, I was thirsty and you gave me drink, a stranger and you welcomed me, naked and you clothed me, ill and you cared for me, in prison and you visited me."
May the Holy Spirit remind us loud and clear today, as we celebrate the Solemnity of Christ the King, that God seeks humble vessels to carry out His work and that He is the one and only true King, no matter how much we might (inadvertently) convince ourselves otherwise. Christ My King, reign in my heart today and always. May You be what is truly important to me, my All!
---
Parece que solo cuando nuestras vidas se ponen patas arriba nos damos cuenta de lo que es verdaderamente importante. Solo cuando lo que considerábamos importante ya no está, comprendemos que tantas cosas son en realidad poco importantes. Entonces, ¿qué ES importante? Si bien la respuesta puede variar un poco, algunas cosas no deberían faltar para nosotros como cristianos.
En primer lugar, Dios es importante. Es tan importante que no existiríamos sin Él y nuestras vidas no tendrían significado. En segundo lugar, las personas son importantes. Últimamente me he acordado una y otra vez de la importancia de la hospitalidad. No importa si alguien rompe uno de los juguetes de mis hijos o se cae algo que mancha mi alfombra. Lo importante es pasar tiempo con los seres queridos y darles la bienvenida. Les estoy mostrando que me importan y que no me olvido de ellos. En tercer lugar, es importante lo que hacemos por/con Dios y por/con las personas. Dios nos ha dado un conjunto de Mandamientos a seguir y Cristo como un sólido ejemplo a imitar. También nos ha dado personas con las que interactuamos y compartimos. ¿Qué es lo que compartimos? ¿Cómo interactuamos?
Todo se trata de la importancia que le damos a vivir solo para Dios. ¿Cristo verdaderamente es mi Rey? Si es mi Rey, eso implica que muchas otras personas (y cosas) no son mi rey. Puede haber un solo Rey. Si la devoción se divide, sobreviene el caos y tal vez incluso la traición.
Las lecturas de hoy demuestran muy bien estos pensamientos. En la primera lectura, Dios promete ir a buscar, velar, apacentar, hacer reposar, buscar, hacer volver, curar y robustecer a sus ovejas. Todas estas palabras evocan ternura y cuidado, amor y compasión. Luego dice: "a la que está gorda y fuerte, la cuidaré. Yo las apacentaré con justicia." Nos hace saber que si nos humillamos y le permitimos ser Rey, nos guardará, pero si elegimos el orgullo, nos disciplinará.
La segunda lectura también habla del orden propio, primero Cristo y luego los que le pertenecen. Tiene que destruir toda soberanía, autoridad y potestad, para que todo esté sujeto a Él, "así Dios será todo en todas las cosas". Una vez más, se nos pide que dejemos nuestro orgullo, nuestros tronos improvisados, y permitamos que Cristo nos gobierne y nos guíe.
Y por último, el Evangelio es la parábola de las ovejas y las cabras, recordándonos que todo lo que hacemos a los demás, se lo hacemos a Dios. "[E]stuve hambriento y me dieron de comer, sediento y me dieron de beber, era forastero y me hospedaron, estuve desnudo y me vistieron, enfermo y me visitaron, encarcelado y fueron a verme".
Que el Espíritu Santo nos recuerde en voz alto hoy, mientras celebramos la Solemnidad de Cristo Rey, que Dios busca vasos humildes para llevar a cabo Su obra y que Él es el único y verdadero Rey, por mucho que podamos (sin darnos cuenta) ) convencernos de lo contrario. Cristo Mi Rey, reina en mi corazón hoy y siempre. ¡Que Tú seas lo verdaderamente importante para mí, mi Todo!
Feature Image Credit: Angie Menes, cathopic.com/photo/7940-jesucristo-rey-del-universo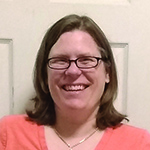 Tami Urcia grew up in Western Michigan, a middle child in a large Catholic family. She spent early young adulthood as a missionary in Mexico, studying theology and philosophy, then worked and traveled extensively before finishing her Bachelor's Degree in Western Kentucky. She loves tackling projects, finding fun ways to keep her little ones occupied, quiet conversation with the hubby and finding unique ways to love. She works full time, is a guest blogger on CatholicMom.com and BlessedIsShe.net, and has been doing Spanish translations on the side for over 20 years.