Over four decades ago today, a child was born. The birth was not an easy one. Born by emergency C-section after many hours of labor, the hue of the baby's skin was more blue than pink. The umbilical cord had wrapped around its neck and air was needed pronto. The fact that the wee one was still alive was nothing short of a miracle.
As a teenager, this same person experienced severe appendicitis. With intense vomiting and pain, the Emergency Room became the only logical destination. Transferred to a different hospital due to logistical technicalities, time was running out. Finally on the operating table, the patient's heart stopped in cardiac arrest. The fact that this teenager was still alive was nothing short of a miracle.
Several years later, hearing became difficult for this college student. After further evaluation, permanent nerve damage was discovered. The fact that this person could hear at all was nothing short of a miracle.
As a college graduate, this young adult had trouble finding a job. The only option available was manual labor, so that is what was done, for years on end. The fact that this hardworking person found a job at all was nothing short of a miracle.
Twenty years later, this individual experienced debilitating back pain and leg numbness. The diagnosis was grim and a risky surgery was needed. The fact that they could even walk at all was nothing short of a miracle.
Have you experienced pain and suffering in similar ways? Have you stopped to think what you DID have and what you were thankful for?
The people in today's Gospel went grumbling to Jesus about why His disciples didn't fast. Instead of realizing that the true Bridegroom was with them and basking in His presence, they chose to point fingers at others. Instead of viewing the suffering of fasting as something that would help their spiritual growth, they chose to whine. The fact that they were standing in the presence of God made man, was nothing short of a miracle.
What ways can we shift our attitudes in times of suffering to realize the amazing realities all around us? The fact that we are alive and loved by our God is nothing short of a miracle.
---
Hoy hace más de cuatro décadas nació un bebé. El parto no fue fácil. Nacido por cesárea de emergencia después de muchas horas de laborar, el tono de la piel del bebé era más azul que rosado. El cordón umbilical se había enrollado alrededor de su cuello y necesitaba aire pronto. El hecho de que el pequeño todavía estuviera vivo era nada menos que un milagro.
Cuando era adolescente, esta misma persona experimentó apendicitis severa. Con intensos vómitos y dolor, la Sala de Emergencias se convirtió en el único destino lógico. Enviado a otro hospital por razones logísticas, el tiempo se acababa. Finalmente en la mesa de operaciones, el corazón del paciente se detuvo en un paro cardíaco. El hecho de que este adolescente todavía estuviera vivo era nada menos que un milagro.
Varios años después, la audición se volvió difícil para este estudiante universitario. Después de una evaluación adicional, se descubrió daño permanente en los nervios. El hecho de que esta persona pudiera escuchar era poco menos que un milagro.
Como graduado universitario, este joven adulto tuvo problemas para encontrar trabajo. La única opción disponible era el trabajo manual, así que eso fue lo que se hizo durante años. El hecho de que esta persona trabajadora encontrara un trabajo fue nada menos que un milagro.
Veinte años después, esta persona experimentó un dolor de espalda debilitante y el sinsentido en las piernas. El diagnóstico era grave y una cirugía difícil lo esperaba. El hecho de que pudiera siquiera caminar era nada menos que un milagro.
¿Has experimentado el dolor y sufrimiento de manera similar? ¿Te has parado a pensar en lo que SÍ tienes, porque estabas agradecido?
La gente en el Evangelio de hoy se quejó con Jesús acerca de por qué sus discípulos no ayunaban. En lugar de darse cuenta de que el verdadero Novio estaba con ellos y disfrutar de Su presencia, eligieron señalar con el dedo a los demás. En lugar de ver el sufrimiento del ayuno como algo que ayudaría a su crecimiento espiritual, optaron por lloriquear. El hecho de que estuvieran de pie en la presencia de Dios hecho hombre, era nada menos que un milagro.
¿De qué manera podemos cambiar nuestras actitudes en tiempos de sufrimiento para darnos cuenta de las asombrosas realidades que nos rodean? El hecho de que estemos vivos y amados por nuestro Dios es nada menos que un milagro.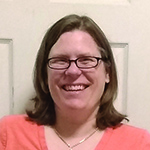 Tami Urcia grew up in Western Michigan, a middle child in a large Catholic family. She spent early young adulthood as a missionary in Mexico, studying theology and philosophy, then worked and traveled extensively before finishing her Bachelor's Degree in Western Kentucky. She loves tackling projects, finding fun ways to keep her little ones occupied, quiet conversation with the hubby and finding unique ways to love. She works at for Christian Healthcare Centers, is a guest blogger on CatholicMom.com and BlessedIsShe.net, runs her own blog at https://togetherandalways.wordpress.com and has been doing Spanish translations on the side for over 20 years.
Feature Image Credit: Aaron Burden, unsplash.com/photos/9yhy1FXlKwI