Failure.  Suffering.  Defeat.  Loss.
We work so hard to avoid these things.  We're pushed to achieve and succeed in a world that seems divided between winners and losers.  We internalize these messages when we do not measure up to society's expectations, or worse, our own expectations for ourselves.
Defeat and failure is where we find the prophet Jeremiah in today's first reading.  Jeremiah is having an interior crisis.  We often think of the prophets as those who have the fixed vison of God before them always.  Sometimes they are granted this vision, such as Isaiah's mystical revelation of God's glorious throne. (Is 6)  But often, their vision is obscured and they are plunged down into the discouragement and despondency of failure.  Read Jeremiah's entire prayer in chapter 20, where his suffering has reached the point that he rues the day of his birth and wishes that he had been aborted in his mother's womb.  His is deep spiritual anguish.
Failure. Over and Over.
We see this pattern often in scripture.  John the Baptist is given vision, "Behold the Lamb of God . . . I saw the Spirit come down." (Jn 1:29-34)  Later, jailed facing death, he is denied this vision and sends his disciples to Jesus to ask if he is indeed the One or should they look for another. (Mt 11:2-6)  At Caesarea Philippi, Peter proclaims Jesus, "The Christ, the Son of the living God."   He immediately followed this divinely-given insight by tempting Jesus to turn away from the road of suffering and death. (Mt 16:13-23)  Many of the same people who chanted "Hosanna to the Son of David!" on Palm Sunday roared "Crucify him!" only days later.  Even Christ himself, the quintessential Prophet was not spared.  On the road to Jerusalem to face his destiny, Jesus is transfigured and hears the words every son longs to hear, "This is my beloved Son, with whom I am well pleased."  In Gethsemane and on the Cross, he feels the full weight of divine abandonment: "My God, my God, why have you forsaken me?"
Hearts of Stone
In today's Gospel, Jesus is confronted by his ministry's failure to penetrate the hearts of his own people.  Their hearts have become as hardened stone, and now they physically pick up rocks to violently stone him.  It seems strange to call Jesus' ministry a failure, but what else could we call it from a worldly perspective?
After a promising beginning, full of signs and wonders, Jesus loses followers, from the rich young man through those who could not accept his Eucharistic teaching.  One of his inner circle betrays him, and his chosen leader and Rock, Peter, denies him.  Only a handful had the devotion to stand at the foot of his cross.  In the eyes of the world, Jesus and his ministry are a failure.
But this is our entrance into the heart of Christ's Paschal Mystery.  Why do we call it a mystery?  God is Life. He is the Source and Ground of all Being.  God cannot die.  Yet God does die on Calvary's Cross.  God is All-Powerful.  He has no weakness. Yet he is delivered up, defenseless, to the politically and religiously powerful to be scourged, mocked, abused, killed.  The ultimate sin, human beings murdering their God, becomes the act of ultimate love and redemption.  Defeat and death become the triumph of eternal life. We cannot intellectually reconcile these things.  We can only enter into the Paschal Mystery sacramentally.  Theologian Romano Guardini: "There are profound questions that return after every proposed solution, mysteries whose intrinsic meanings, not solved but lived, increasingly clarify the faith of those who live them."
Success Is Not a Gospel Category
Perhaps your Lent has been like mine.  A failure.  Scuttled, intermittent prayers.  Lost opportunities to generously give, serve, and stand in solidarity with the poor and vulnerable.  Self-indulgent in food and drink.  Broken promises to God and those close to me.  Still struggling and committing the same sins that I repented of on Ash Wednesday.
Fortunately, success is not a Gospel category.  In light of Christ Crucified, failure may be more beneficial to our spiritual growth than success. We can see ourselves as we truly are, wounded and in need of a Redeemer.  As C.S. Lewis wrote, "How can we meet (the divine) face to face till we have faces?"  All false fronts must drop before God if we are to enter into a real, holy, intimate relationship.  He desires hearts to become fruitful, not paragons of individual achievement, even spiritual achievement, not "self-made" women and men.
We approach God through the liturgies Holy Week as St. Therese of Lisieux did, "with hands emptied for your love . . . more and more emptied that they may be filled with You."  Our own successes and achievements (which we owe to God anyway,) our own failures and defeats, mean little standing within the Paschal Mystery of Christ's death and resurrection.
God's forgiveness, grace, peace, and love are abundantly available to be received this blessed week, if we only die to our obsessions with success and failure, winning and losing, and enter the divine mystery of our redemption.  If we open ourselves up to filled with the love flowing from the heart of God, he will accomplish his saving work through us, making us fruitful beyond our imagining.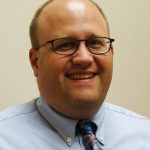 John Graveline, MTS, is a husband and father of three small children.  He has worked for almost twenty-five years as a catechist and ministry coordinator specializing in the evangelization of young adults, adults, and families.  He is currently on the pastoral staff of St. Luke University Parish at Grand Valley State University as the Faith Formation Director.