There are a handful of times when I remember God made his plan pretty clear to me. The first time was when I was on my eighth grade confirmation retreat. The retreat leader, Tony Bellizzi, led us through a meditation during which Jesus gives us a gift. My gift was music, I was sure of it!
Six months later, I auditioned for Full Armor Band; I've been keeping time since summer 2007. All through high school and college, at a time when I really asked "what am I supposed to be doing with my life?", I heard so many different answers: "you should be a teacher." "you should be a nurse or PA." All of these were suggested for the pragmatic reasons: they make money.
But I never forgot about that retreat meditation and how my heart truly longed to write and play music. It wasn't until failing out of a competitive Physician Assistant program and going through a bit of a depression when I finally decided to follow God's promptings in my heart to play music.
On All Saint's Day of 2013, the priest at Mass said in his homily that "a saint is a person who follows God's plan for their life." After Mass, I met my mom at my dorm, packed up my things and I went home so I could pursue what I believed to be God's plan for my life: music!
And I did! My band really expanded our territory, I grew as a songwriter and we collaborated to write an album (which was groundbreaking for us).
However, there were large intervals of time between our trips and writing sessions, so I had to go back to my high school job as a petroleum transfer engineer
(aka gas attendant).
I thought I was just kind of waiting for my band to get more attention… until I found myself interviewing for the position as a person who provides support to individuals with developmental and intellectual disabilities. And the only reason I did is that I was praying during mass in front of a family with a son who has autism (and slightly more, but that's a story for a different time).
I have been doing the job now for 2 years. If you asked me five years ago if I'd be interested in working with individuals who have autism or down syndrome, I may have said that I'm confident God is calling me to do music and that is where my focus and energy should stay.
But when I heard the suffering and need of those in my community, in my church, I was sure that God was calling me to serve in this way as well.
In the Gospel, it seems like this is Jesus' mindset: At that time Jesus withdrew to the region of Tyre and Sidon. And behold, a Canaanite woman of that district came and called out,
"Have pity on me, Lord, Son of David! My daughter is tormented by a demon."
But he did not say a word in answer to her. His disciples came and asked him, "Send her away, for she keeps calling out after us." He said in reply, "I was sent only to the lost sheep of the house of Israel." But the woman came and did him homage, saying, "Lord, help me." He said in reply, "It is not right to take the food of the children and throw it to the dogs."
Firstly, He didn't even answer her. And near the end of this section, he compares ministering to her as taking food from children and giving it to dogs.
Ouch!
Jesus, what's the deal?! I thought You were supposed to be the sandal-wearing, long-haired hippie "love everyone" kind of guy?
But this passage seems to be an interesting account of Jesus growing in His humanity and understanding of God the Father's plan for Him to live and die for all, not just the Israelites.
He knew He was here for "the lost sheep of the house of Israel." But plans seemed to change when He recognized those that were crying out for Him.
However confident we may be in God the Father's plan for our life, there seems to be a perennial opportunity to be surprised at how little we know of what He wants.
But the message seems clear;
Respond to the suffering near.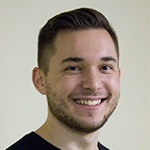 During the week, Matthew Juliano is a mentor for individuals who have developmental and intellectual disabilities. On the weekends, he is a drummer for Full Armor Band. You can find more content by Matt and his band at www.fullarmorband.com.