In recent years Advent has started to mean something more to me. In the past, Advent was just a time for lighting candles and singing "Oh Come Oh Come Emmanuel". However, that changed one year when I was in spiritual direction and the Priest said to me, "John Paul my prayer for you is that you allow the incarnate Love into your heart this advent."
Since that spiritual direction much has changed. I realized that advent is not so much about what I am preparing to do, but what Christ is preparing to do in me. God loves to prepare us in unexpected ways and this is exactly what the visitation shows. Fulton Sheen writes in his book The Worlds First love:
" If we ever sat down to write out what we would expect the Infinite God to do, certainly the last thing we would expect would be to see Him imprisoned in a carnal ciborium for nine months; and the next to last thing we would expect is that the 'greatest man ever born of women' while yet in his mother's womb, would salute the yet imprisoned God-man. But this is precisely what took place in the Visitation."
Throughout the entire bible God surprises humanity with the unexpected. God surprised Mary with a Child while remaining a virgin, and adds to this surprise by her cousin Elizabeth who is way past the child baring age and now bares a Child.
During the Advent season God is not asking us to expect the bare minimum. God wants us to open our hearts to receive more then we could ever dream. God wants to fill our hearts with so much that they flow over, and like Mary, we go out in haste to bring Jesus to others.
Before writing this blog, I asked my mother what she would write. She responded with, "well its nothing much, or very profound but I wrote something a long time ago." This is what she wrote:
"The stable is empty awaiting the fulfillment of the Word incarnate.

Cold, dark, a place fit for sheltering the creatures of the field who labor.

No more, no less then they need is this stable.

Yet on that night chosen by God, that stable became a palace fit for a King.

Nothing looked different but His very presence changed the dark, cold stable.

Never to be the same nor would our hearts.

He was in the baby, some did not recognize Him. He is in the Eucharist and some do not recognize Him.

Praise the Lord who lifts up the poor.

He knows us well and recognizes us at our poorest."
In a Gospel that highlights the beauty of Motherhood, it is only fitting that my own Mother would add such a profound insight to the Birth of our Lord Jesus. What she wrote is the condition of our souls when we receive our Savior, the Infinite God. This advent season God sees how poor we are, and He loves us. He sees how broken we are, and He loves us, He sees what we fail to become by ourselves and He loves us. Allow God to break into the stable which is your heart. Allow God to do the unexpected in your heart this Advent.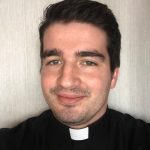 "John Paul is a Theology II student at Sacred Heart major seminary studying for the Diocese of kalamazooo"