Tonight is the greatest night of the whole year. The chains of sin and death are broken, the grave is opened. That dark midnight hour is filled with the light of this wonderful reality, Christ is Risen!
But we're not there yet. The hour has not yet come. We still have this day, these next few hours to muddle through. I remember as a child being so restless on Holy Saturday. I felt so empty. Jesus was gone, nowhere to be found in any church. He was dead and I felt so lost. I couldn't go visit Him at the adoration chapel. Even talking to Him in prayer felt like a futile exercise, like He couldn't hear me anyways. Sure, we tried to fill the hours by coloring hard boiled eggs, cooking or getting the house ready for Easter, but it was such a hard day.
Knowing myself as I do now, I realize I am an impatient sort, and likely was even as a child. The most important day of the year was drawing nigh and I didn't want to wait for it. I'm sure the promise of candy upon the morn didn't help anything either.
It seems like we're always waiting for something, doesn't it? Waiting for the weekend to get here, for our relationship with our family members to get better, for that summer vacation we've been planning, to feel better after surgery or an illness, for the loan to go through, or the house to sell. And although we should give our all at being present in the present, living fully, to the best of our ability, we are actually SUPPOSED to be waiting, aren't we? Our lives should be filled with joyful anticipation, expectant waiting of that glorious day, when we will, at last, be in Christ's presence forever.
So as these last few hours pass before the celebration of Easter, let us remember that life truly is a time of waiting, but that we can be joyful in the waiting, knowing that our own resurrection awaits us.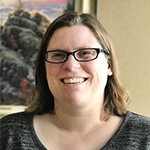 Tami grew up in Western Michigan, a middle child in a large Catholic family. Attending Catholic schools her whole life, she was an avid sportswoman, a (mostly) straight A student and a totally type A sister. She loves tackling home projects, keeping tabs on the family finances and finding unique ways to love. She spent early young adulthood as a missionary in Mexico, studying theology and philosophy, then worked and traveled extensively before finishing her Bachelor's Degree in Western Kentucky. Her favorite things to do are finding fun ways to keep her four boys occupied, quiet conversation with the hubby, and grocery shopping with a latte in her hand. She works at Diocesan, is a guest blogger on CatholicMom.com and BlessedIsShe.net, runs her own blog at https://togetherandalways.wordpress.com and has been doing Spanish translations on the side for the past 18 years.