Recently, I read a quote that states, "Christianity isn't as much about getting to Heaven as it is allowing Heaven to get inside of you." In our Scripture readings today, we hear how the Lord created each of us with purpose. He calls us His servants, through whom He will show His glory. Within the First Reading and the Responsorial, we are reminded of the importance of seeking God in our needs. How can we show His glory if He is not our source of everything? It is in Him that we should take refuge. It is in Him that we should draw strength, safety, and hope. When we are not drawing from the wellspring of His glory, we wander into what is not good.
In the Gospel Reading, we automatically hear Jesus say, "Amen, amen, I say to you, one of you will betray me." The one who does this is not drawing His needs and desires from the One who satisfies them. Instead, he is concerned with things of this earth. He is concerned with selfish wants and greed. We know who Jesus is talking about, we've heard the story before. What I previously did not realize is the fact that this Gospel reading seems to focus on not only Judas but Simon Peter. The one whom Jesus loved, the one who would betray Him three times. Both Judas and Peter betrayed the Lord, yet both were created to be servants of God. One is only known for betraying Him and one is known for not only this but for also being the first Pope, the Vicar of Christ.
"Christianity isn't as much about getting into Heaven as it is allowing Heaven to get inside of you." This is what sets Judas and St. Peter apart. Both wandered from Christ being the source of everything. Both were scared, overwhelmed, and betrayed Him. The difference between them is that St. Peter returns to the heart of Christ, with contrition and repentance. He lives the rest of His life as a servant of Christ, which meant opening himself up to the glory of God. When I reflect on the relationship of Simon Peter, the simple fisherman who became our first Pope, I smile in awestruck admiration of this perfectly imperfect human being. He inspires me to be honest in my relationship with Christ, to seek God in all my needs, and to be His servant, through whom He will show His glory.
My friends, let's be inspired together to be true servants of God this day and this holy week. Are you so open to the Spirit of God that you are truly relying on Him for your every need? Are you so honest with yourself and with God to recognize and admit where you've wandered off from Him? Have you betrayed Him in little or in big ways? If so, how can we humble ourselves like St. Peter? How can we come honestly back to His merciful heart with true contrition? These questions are not meant to beat ourselves up or huff and puff in our journey of holiness. They are meant to pull us out of mediocracy and open us to living out the glory of God here and now. This is the opportunity God presents to His disciples and to us today. Let us open our hearts, minds, and spirits up to becoming the servants God calls us to be, opening our hearts to the glory of Heaven within is and shown through us.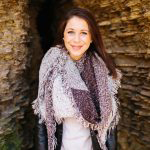 Briana is a Catholic youth minister at Our Lady of Mt. Carmel parish in Cleveland, OH. She is also a nanny and district manager at Arbonne. She received her Bachelor of Arts in Theology and Catechetics from the Franciscan University of Steubenville, OH and is excited to use these skills to bring her students closer to Christ and His Church. "My soul has been refined and I can raise my head like a flower after a storm." -St. Therese