We are now in the midst of the most important week of the year. The entirety of Jesus' life and mission leads to this week, which ends with him dying on the cross and rising from the dead. The events of our readings this week will ultimately lead to the cross; the climax of all of salvation history.
Today's gospel takes place not long after Jesus miraculously raises Lazarus, the brother of Martha and Mary, from the dead. As Martha serves the meal, Mary anoints the feet of Jesus with costly perfume that cost an almost entire years income.
In a culture which women were unable to support themselves or own property, their brother was likely the only one who could support them. When Lazarus died, Martha and Mary were likely to become poor beggars when whatever was saved ran out. But Christ came and raised her brother from the dead, saving them from such a cruel fate.
Mary was filled with overwhelming gratitude to Jesus for giving her back her brother and wanted to acknowledge his Lordship. The perfume was likely the most valuable thing in the house.
Judas, the disciple who would betray Jesus for thirty pieces of silver, exercising false piety, complains that the perfume could have been sold and the proceeds given to the poor. He, of course, did not care for the poor. St. John makes it clear that Judas was the group's treasure and was laundering contributions to satisfy his greed.
It is ironic that Judas complains about the loss of a year's wage when he was willing to betray Jesus for a value significantly less than the perfume.
Jesus dismisses Judas, commanding her to let Mary be. He says the poor will always be among their presence and there will always be an opportunity to serve him through serving them, but they have only a few more days with him before he is to suffer and die.
As we prepare to wrap up Lent this week, take a long and hard look at your Lenten resolutions. Using the example of Mary as she blesses Christ with her most valued possession and dries his feet with her hair, look beyond where you have fallen short and exercise them with greater devotion and love this week as she did.
Ask the Lord to unveil to you where you act as a hypocrite as Judas did, and ask his help to change your heart to better serve him as he approaches his passion and death.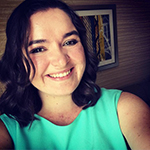 Hannah Crites is a native to Denver Colorado and a graduate of the Franciscan University of Steubenville. She has written for numerous publications and blogs including the Chastity Project, Washington Times, Faith & Culture: The Journal of the Augustine Institute, and Franciscan Magazine. She is currently working in content and digital marketing for a small web development and digital marketing agency. Connect with her through Twitter (@hannah_crites) and Facebook. Check out more of what she has written at https://hannhcrites.com/.