Love is patient, love is kind.
Love is not jealous, love is not pompous…
It bears all things, believes all things,
Hopes all things, endures all things….
My love? Not.
Why is it that we idealize this type of love, sentimentalize it, even assume this is the way we love others? I do this. I really do. Part of the spiritual journey is realizing that I don't really love others. Why?
Our hearts are vulnerable. They are insecure. Our ego creates a story, writes a script, provides a mask, produces an alibi so that we don't have to live with that insecurity about our real selves. We spin a web that convinces even ourselves that we are this person we've created, a story that saves us from acknowledging our fears about our own worth.
We can discover that story written consistently across the years of our lives in what we say we value, how we choose to react to situations, our judgments of others, even lifestyle decisions. Looking back, I've spun a story about obedience, isolation, quiet holy humility
that I believed was me. I can see the threads of the story originating in grade school and continuing through the next forty years.
The problem is that when we write our stories, we create a frame of reference for what we believe is true and good. We, even unconsciously, judge anyone else who doesn't fit our story. So the boisterous, the fun-loving, the quick moving, and sensible movers of my companions don't fit the story of what I live as "virtue." And…you guessed it…
Love is patient, Love bears all things, Love believes all things, love hopes all things…. Oh, yes, I do these things for the people who fit my story. But if they draw outside my lines? It is really hard.
So for the wife who is neat and efficient to value the spouse who puts friendship over order is hard. She may not be able to "bear" this with love because to do so would mean she would have to face her own deeply rooted insecurity that the efficiency is masking.
Most of us wouldn't even know where to begin to peel back the layers of the onion that so carefully protect our fearful identities.
Holiness is about working with God on a deeper and deeper level to break the hold the story has over us. The story is ultimately a lie about what is most true about the God who tenderly loves us and a lie about ourselves. Only when that lie loses its hold over us can
we choose the alternate way of love. In fact, as we encounter our true self, we are immersed in a surprising love for ourselves which enables us gradually to love and appreciate others and just let them be, "hoping all things, enduring all things" for their
sake.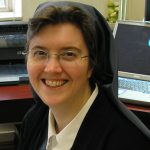 Kathryn James Hermes, FSP, is the author of the newly released title: Reclaim Regret: How God Heals Life's Disappointments, by Pauline Books and Media. An author and spiritual mentor, she offers spiritual accompaniment for the contemporary Christian's journey towards spiritual growth and inner healing. She draws from the spiritual tradition and her own lived experience to lead seekers deep within themselves and through their personal history to deepen their intimacy with and trust in God; live with greater joy, peace, and interior freedom; and encounter the Lord in their past and present life experiences to find healing, grace, and newness of life. She is the director of My Sisters, where people can find spiritual accompaniment from the Daughters of St. Paul on their journey.