The last line of the Gospel, "all the people were hanging on his words' (Luke 19:48b) strikes me as a very good way to live. Hanging on the words of Jesus. Jesus cleansing the temple area to make the point that he has the authority to do so. The temple is a place of prayer and worship of God. Once he leans out the temple, he proceeds to teach every day and the people paid attention. Not a little bit of attention, but full attention.
Now think about yourself for a minute. Do you pay that much attention to what Jesus says? Since you are reading a reflection on the daily Gospel, I will say you probably pay more attention than the average person. Let me say this, the people are paying attention to Jesus because he speaks with authority and authenticity unlike the other leaders of the day. I think we have a similar problem in our day.
The next question is, do you do what Jesus says to do? Are you a Christian who can speak with both authority and authenticity? In my own life, I have taken "live not lukewarm" as my personal mission. I do not always succeed, but I try to be authentic in all that I do and say in my life and ministry. I look at Scripture as a starting point, each day I read the Gospel, listening for the word I can hang onto for the day, the words that help me with a problem or that I can tell another person to help them. Sometimes the words convict me of how I am not doing what Jesus teaches and I am called to repent. Each day, there is the Word, and each day it can help us live out our faith. It is not enough to know; we are called to live out what we know. When we do that, we help bring about the Kingdom right here and now.
So today, go back and read the Gospel again, answer this question, what word of Jesus can you hang onto today?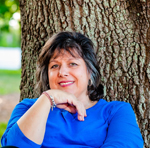 Deanna G. Bartalini, is a Catholic writer, speaker, educator and retreat leader. She is the founder of the LiveNotLukewarm.com community, a place to inform, engage and inspire your Catholic faith through interactive Bible studies, courses and book clubs. Her weekly podcast, NotLukewarmPodcast.com, gives you tips and tools to live out your faith. At DeannaBartalini.com she writes about whatever is on her mind at the moment.