They looked for Jesus and said to one another as they were in the temple area, "What do you think? That he will not come to the feast?" John 11:56

In today's Gospel, the people are wondering if Jesus will show up for the Passover Feast. They were, of course, referring to the feast which became the Last Supper; but did anyone suspect that Jesus would become the Passover feast?

There have been times in my life when I too have wondered if Jesus would show up. Times when I have been in destress and worried. The time I was laid off from work, the time a family member was ill, the time my marriage was rocky …the time my son passed away.

At times like this it becomes a time of waiting and a time of faith. Tomorrow marks 15 years from when I had my reconversion to my faith. Fifteen years ago – God reminded me that He did show up. He reminded me that He was there at my baptism, at my confirmation, and walked alongside me all through my life; but until 15 years ago I did not look for Him.

My conversion led me to change my life and know and trust that God loved me. Really loved me. Even with this big conversion, I still doubt sometimes. Maybe you do too.
As we prepare for entering into Holy Week – our own Passover – reflect on how you might trust that Jesus will show up in your life and struggles.
Let us Pray:
Dear Jesus, please show me the ways in which You have showed up in my life.
Help me to trust that You will be with me always.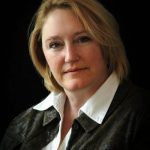 Sharon Wilson – Wife, Mother, Writer, Catholic Speaker, and a WINE Specialist. Sharon has a degree in education and has worked as a freelance writer, Respect Life Coordinator, a teacher, in advertising, radio, buyer and in youth advocacy – She even rode an elephant in the circus once! Sharon speaks, writes and shares about God's healing and about the great gift of being Catholic at SharonAgnesWilson.com