I love this Gospel reading today. I really love praying the Liturgy of the Hours, also called the Divine Office. There's a reason why thousands of lips utter these same words as Zechariah every morning:
Because He keeps His promises.
He promised Noah to show eternal mercy upon His creation after the flood.
He promised our father Abraham that He would be the father of countless generations.
He promised Moses that He would deliver His people out of slavery to the Promised Land.
Throughout the Old Testament, we have the words of the prophets echoing God's promises to deliver us from our enemies, "free to worship Him without fear."
In today's First Reading, God speaks this reality to David, "I have been with you wherever you went, and I have destroyed all your enemies before you. And I will make you famous like the great ones of the earth. I will fix a place for my people Israel; I will plant them so that they may dwell in their place without further disturbance. Neither shall the wicked continue to afflict them as they did of old."
He swore that He would remember His covenant.
The most paramount promise He ever made was to the serpent in the Garden, when He swore that He would send One to rise up and crush his head.
That time is now, brothers and sisters.
Tonight, two thousand and twenty years ago, the Word of the Father became incarnate and walked among us. The Son of God came to save us.
Why? Because He always keeps His promises.
The world offers us many things to idolize: money, fame, glory, power, pleasure. But these things have proven, throughout the course of human history, to be false and fleeting. The only thing that has stood the test of time is the Word of God. This is the crux of our faith.
And that Word is still true and relevant today. Christ desires to enter into the mess of 2020, just as He entered into the mess of Bethlehem's stable.
This has been a hard year. No one is denying that. It has been filled with political unrest, hatred, hunger, sickness, death, natural disasters, and grief. Above all, it has been filled with the unknown.
So we must hold on to what we do know. And what is that? That He is still coming. Because He said He would.
He is coming into the midst of a year bursting with suffering, wounds, traumas, fears, sin, brokenness, stress, irritations, heartbreak, and loss.
And that's why we can celebrate. That is why this is the most wonderful time of the year. That is why the bells peal and the voices ring out in unison, "O Holy Night!"
This night is holy because it is the night that the world stopped turning on its axis. It is the night that forever changed the course of history – the night that reordered our count of years.
Zechariah's Benedictus summarizes it well, "In the tender compassion of our God the dawn from on high shall break upon us, to shine on those who dwell in darkness and the shadow of death, and to guide our feet into the way of peace."
Right now, we are stuck dwelling in darkness, the shadow of death permeating our culture and our lives.
But tonight, the light is breaking for us. He is leading us and guiding us. He is giving us His peace. All because He keeps His promises.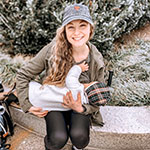 Sarah Rose hails from Long Island and graduated from Franciscan University in 2016 with a Bachelor's in Theology & Catechetics. She is happily married to her college sweetheart John Paul. They welcomed their first child, Judah Zion, in 2019. She is passionate about her big V-vocation: motherhood, and her little v-vocation: bringing people to encounter Christ through the true, the good, and the beautiful. She loves fictional novels, true crime podcasts/documentaries, the saints (especially Blessed Chiara Luce Badano), & sharing conversation over a good cup of coffee. She is currently the Coordinator of Young Adult Ministry at St. Cecilia Church in Oakley, Cincinnati. You can find out more about her ministry here: https://eastsidefaith.org/young-adult OR at https://www.facebook.com/stceciliayam.
Feature Image Credit: Daphné Richard, https://unsplash.com/photos/99VLuQKiimQ