Today is Nathalie's birthday so I would be remiss if I didn't wish her a Happy Birthday up front. And it is fitting because today's Gospel passage is all about birth. It's the announcement of a very important birthday and the power of God.
Think about this passage and compare it to the announcement of Jesus. You have Mary and you have Zechariah. One is a priest and one is a simple girl from a small town. But the responses could not be more different. Mary immediately asks how this all can be because she has not been with a man. She does not doubt God is going to make it happen, but just wonders how it will take place.
Zechariah on the other hand, doubts that God can actually do it. Because of his lack of faith his mouth is sealed. Two beautiful stories about God working in the natural world to bring about his plan. Two different subjects. Two different responses.
I have been thinking a lot lately about the difference between faith and reason. Of course these two are connected in our Catholic faith, but they are not equal. They are in fact, very different. Faith is an assent of the will to those things we cannot know, but which have been revealed. Reason is using our intellect to learn about the things we can know.
So when you think of it this way, faith is not unreasonable like many presume, but instead it is super-reasonable. That is to say, reason gets us to a certain point and faith takes us beyond.
The Catechism of the Catholic Church puts it beautifully by saying, "In faith, the human intellect and will cooperate with divine grace: 'Believing is an act of the intellect assenting to the divine truth by command of the will moved by God through grace.'" CCC 155
This is the message we see in the Gospel today. We can reason all we want about how a woman cannot get pregnant after menopause or how someone cannot conceive if they have not had relations with another. But at the end of the day, faith went beyond that which we could know. God revealed a seemingly impossible plan by reason standards, and our characters had to have faith that what was said would come to pass.
We now have historical accounts of what came to pass, proving that faith was not blind assent to an untruth, but it confirmed truth beyond anything we could do ourselves. In both stories, the tipping point is faith. In our story, the tipping point is faith. Do we believe? No, but do we really believe? If God spoke to us today and told us something would happen that would be impossible to reason through, would we trust? Does our understanding supersede faith or do we allow our faith to go beyond the confines of reason alone?
Let's all pray to have faith as Mary did when she said, "Let it be done unto me according to your word." From all of us here at Rodzinka Ministry, God Bless!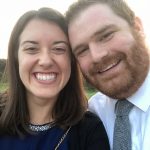 Tommy Shultz is the Founder/Director of Rodzinka Ministry and the Director of Faith Formation for the North Allegan Catholic Collaborative. In these roles, he is committed to bringing all those he meets into a deeper relationship with Christ. Tommy has a heart and flair for inspiring people to live their faith every day. He has worked in various youth ministry, adult ministry, and diocesan roles. He has been a featured speaker at retreats and events across the country. With a degree in Theology from Franciscan University, Tommy hopes to use his knowledge to help all people understand the beauty of The Faith. Contact Tommy at tommy@rodzinkaministry.com or check out his website at rodzinkaministry.com.
Feature Image Credit: Aaron Burden, https://unsplash.com/photos/4eWwSxaDhe4