Today's First Reading about the oppressing city struck a chord in my heart. I sometimes feel like we are in a time of oppressing cities. During the lockdown essential businesses were allowed to stay open. Sadly this included liquor stores and abortion clinics but churches were shuttered. I fear for the religious freedom our forefathers fought the Revolutionary War to win. I am frustrated at the hypocrisy around me. Today's reading and Gospel bring me comfort.
Zephaniah is clear in his prophecy regarding the wickedness of the nations. "Woe to her that is rebellious and defiled, the oppressing city! She listens to no voice, she accepts no correction. She does not trust in the Lord, she does not draw near to her God," he writes. As I grow more in love with Jesus, I am more bothered by the wickedness in our world. I am more outraged at the people who are trying to squash my right to worship the God of the Universe. This doesn't stem from a place of judgment or superiority as much as wishing others trusted the Lord and desired to draw near to God. Imagine what an amazing world it would be. I have seen firsthand the wonder and generosity of God. I want others to see that too.
But these attempts to restrict our rights to freedom of religion are aggravating. Zephaniah reminded me of something that has brought me much comfort this past year – when we die, every one of us, whether we believe in God or not, has to stand in front of him and give an account of our life. That means the people who kept abortion clinics open but closed churches have to explain that decision.
And I too will have to stand before God and explain myself. This fills me with fear because telling the One who created me and has loved me unconditionally how I hurt him is going to be rough. But it also fills me with comfort because, as we read in today's Gospel, our God is a God of mercy who welcomes our repentance. How many times have we said "No" to what is right but then changed our mind and done it anyway or sought forgiveness for that "no." The tax collectors and prostitutes initially said "No" but when John the Baptist and Jesus called for repentance, they answered that call. They asked for and received forgiveness. We can do that too and what a glorious Father we have in Heaven who offers this to us.
None of us know what is going to happen to anyone else. I, for one, am glad I'm not involved in the judgment of anyone's soul. That is God's role and I trust in his justice and mercy. What I do know is that prayer is important and that even if, heaven forbid, every religious freedom we have is eroded away, no one can take God from our hearts and souls. In the end, well, we already know that Jesus won the war for all mankind. Amen.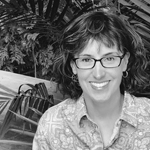 Merridith Frediani's perfect day includes prayer, writing, unrushed morning coffee, reading, tending to dahlias, and playing Sheepshead with her husband and three kids. She loves finding God in the silly and ordinary. She writes for Ascension Press, Catholic Mom, and her local Catholic Herald in Milwaukee. Her first book Draw Close to Jesus: A Woman's Guide to Eucharistic Adoration is expected to be released summer 2021. You can reach her at merridith.frediani@gmail.com
Feature Image Credit: Exe, Lobaiza, https://www.cathopic.com/photo/3690-chica-oracion