Mary's Magnificat is one of the most well-known Scriptures. It is used in the Liturgy of the Hours for Morning Prayer every day. It appears as the Gospel reading more than once every single year. There is so much packed into these 9 verses.
Mary, who we know was a deep thinker and pondered the things that happened to her in her heart, had had some time to begin pondering the message of the angel. Part of the angel's message concerned Elizabeth, who herself was experiencing a miracle. While I don't believe Mary doubted the angel's news, I can also imagine her immense joy when she came to Elizabeth's home and found the angel's words to be true.
Mary's Magnificat is a prayer, a song almost. She praises God's goodness and mercy. She also affirms what she has known to be true in her own life, our God is a God who keeps His promises. At Elizabeth's greeting, Mary found both the words and the courage to boldly proclaim the wonders God was working in her own life. She takes ownership of her new role: "All generations will call me blessed."
I heard recently that as we continue closer to Christmas, this time has in a way been akin to pregnancy. Looking back, it was in March when the lockdowns began. We celebrate the Annunciation on March 25. We have journeyed for 9 months through this pandemic as a mother journeys through pregnancy, each day with something new to learn, a new discomfort to deal with, a new reality to grapple with.
Only the young believe that after having a baby life returns to "normal." Any parent will tell you that having a baby, be it your first or your tenth, changes your life. There is a new reality, new challenges, new joys.
Let us look toward the future with a hope that is akin to Mary's hope. Mary's Magnificat praises God for His goodness, His faithfulness and His mercy. She trusts that just as God has cared for the lowliest of His people He will care for her. This is a profound act of faith, and it is one we are being called to this Christmas season.
We have the opportunity to make the same profession of faith that Mary made in her Magnificat. God isn't just some being out there, God is here, present, right now. He is waiting to be welcomed into our heart as He was welcomed into the lives of Mary and Joseph. Mary's Magnificat recognizes that no one is beneath God's loving gaze.
As we move forward to Christmas Day, may you feel God's presence intimately in your life. As you lay the Christ-child to rest in the manger, may you feel Him being born anew in your heart so that you can boldly proclaim with Mary, "My soul proclaims the greatness of the Lord!"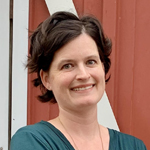 Kate Taliaferro is an Air Force wife and mother. She is blessed to be able to homeschool, bake bread and fold endless piles of laundry. When not planning a school day, writing a blog post or cooking pasta, Kate can be found curled up with a book or working with some kind of fiber craft. Kate blogs at DailyGraces.net.
Feature Image Credit: gamagapix, https://pixabay.com/photos/mary-and-joseph-donkey-figurines-5810252/