We are over half-way through Lent. I'm certainly not going to ask you about how you are doing with your Lenten resolutions when the Gospel of the day is the parable of the Pharisee and the publican! "Hey, look at me, God. I'm not like the others. I have kept all my Lenten promises. I haven't touched candy, haven't indulged in ice cream (my favorite weakness), like that person over there…."
Sometimes the "Lenten resolution culture" can lead to spiritual cheerleading for ourselves. I can see how that could easily happen. The season of Lent is long and requires a lot of personal strength to persevere to the end. And that's where the devil can twist our desire to persevere to the finish line into a self-congratulatory triumph which is not quite what the season of love and mercy is meant to be.
"O God," said the publican, "be merciful to me for I am but a sinner." So what do we do with these Lenten resolutions at this point? In light of today's Gospel, we could reflect on how we feel about our progress. Are we more like the Pharisee in the parable? Or more like the publican? Whether we have perfectly followed through on our resolves or not, the call of today's Liturgy is to reorient ourselves in the depths of our heart to the attitude of the publican. From your deepest need and place of vulnerability, cry out to God for help. Leave behind your concern for what you have or have not done, and instead focus on arousing your intention on loving the Lord and being grateful for his loving-kindness toward you.
We might smart at the idea of comparing ourselves with the publican. But, in reality, the publican is simply living out the spirituality of childhood. A child depends entirely on parents and guardians for everything, and the publican here is professing his dependence on God for newness of life and the flowering of his holiness and humanity.
So as we come down to the final lap of our Lenten journey, it is okay to let go of some of the resolutions in favor of relationship with Jesus if that is where he is calling you. I think that's what he wants anyway. He died to win our love, not our perfect compliance to self-made resolutions. These do indeed have their place, but only as a type of asceticism that helps us take on more and more of what builds our relationship with him by setting aside those things that block that relationship from flowering.
No matter how "successful" your Lent has been, gently bend low in worship, offer it to Jesus, and promise him your loving attention as you move forward.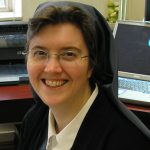 Sr. Kathryn J. Hermes, FSP is an author, an active team member of My Sisters, an online faith community, and a compassionate mentor and guide. Through her writing and online ministry she takes others along with her on her own journey of spiritual transformation, specializing in uncovering in the difficult moments of life where God's grace is already breaking through. Connect with her website and blog: www.pauline.org/sisterkathryn or find her at My Sisters. Learn more at www.MySistersinChrist.org.