In his Confessions, Saint Augustine recounts the great struggle he went through in his conversion. He was drawing closer to embracing the Catholic faith, but he couldn't bring himself to give up his sinful life. He was living with a woman but not married. One day he was in a garden with his friend Alypius, with his heart torn and heavily burdened. Would he ever get to know and love God? Suddenly he heard something that sounded like children chanting, Tolle lege! Take and read! Startled, Augustine noticed a book and picked it up. Opening it at random, his eyes fell on Romans 13:13-14: "Let us live honorably as in the day, not in reveling and drunkenness, not in debauchery and licentiousness, not in quarreling and jealousy. Instead, put on the Lord Jesus Christ, and make no provision for the flesh, to gratify its desires."
That was all he needed to read. Moved by grace, Augustine put the book down and made a decision that would change his life forever. He went on to become one of the Church's greatest saints.
In today's Gospel, we hear Jesus presenting his case to a hostile audience. It's their moment of decision. Jesus is trying to win their hearts to accept the grace of the Gospel. He presents four powerful witnesses to the truth of his teaching:
John the Baptist, who was a lamp burning brightly that pointed the way to Jesus.

The works that Jesus did, which he received from his Father. Jesus had worked miracles of healing that were confirmed his teaching.

The Father himself testified to Jesus. At his baptism the words came from heaven, "This is my beloved Son; listen to him!"

The Scriptures themselves, which meant the Old Testament. They spoke of the Messiah who was to come, the Savior of the world. Though the language was veiled the meaning was clear to those who wanted to see.
The hostile crowd faced this moment of decision. With all these witnesses, what would they do? Some believed, but many turned away. Jesus told them bluntly that though he would not accuse them, Moses would, for Moses had written about Jesus.
Like Augustine and the hostile crowd, all of us have moments of decision. We may have had a major moment of conversion in our lives. But on our spiritual journey, we face many such moments, big and small. Each of them gives us an opportunity to grow in love. It might be helping a child with homework, smiling at a co-worker, or donating my time to a special project. Lent gives us more time to reflect on these daily decisions, as well as any larger movements in one's life. Where am I right now, and how am I walking on the path to God? Has Jesus sent some witnesses into my life to give me a nudge in the right direction? How will I respond?
"Multitudes, multitudes, in the valley of decision! For the day of the Lord is near in the valley of decision." –Joel 3:14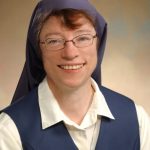 Sr. Marianne Lorraine Trouve' has been a member of the Daughters of Saint Paul since 1976. She has an MA in theology from the University of Dayton and has served on the editorial staff of Pauline Books & Media for over 20 years. She is the author of several books, including Saint Thomas Aquinas, and Mary: Help in Hard Times. When she's not writing, editing, or working on logic puzzles, she can be found blogging at www.thomasfortoday.blogspot.com.