The Gospel Readings for today allows us to see intimately into the relationship Jesus had with His Father. It is within this prayer that we are revealed the beauty, intimacy, and trust of their loving relationship. He asks God the Father that those who believe in Him may all be one, as the Father and Son are one. He asks that they may be one Church in such unity that it resembles the unity of their relationship. "That they may all be one, as you, Father, are in me and in you". Jesus goes on to pray for our perfection, that we may be loved by the Father as He is loved by the Father and then states that we are the Father's gift to Him.
Jesus teaches us how to pray. He has taught us how to pray not only by the Our Father, but here and many other places in Scripture as well! Jesus is praying a prayer of petition to the Father, there are moments of reflection and gratitude in the love they share & gratitude in His reception of His people as a gift from His Father.
Today, I encourage you to write your own prayer to the Father. Follow Jesus' example of petition and prayer of thanksgiving. Share what is on your heart and mind and know that our Heavenly Father desires to be united to you as He was united to Jesus, that my friends, should stir our hearts to sprint to our loving God. Let us answer Jesus' prayer today by striving for unity and love with those around us & bringing our hearts to the Father so we may grow in our loving relationship with the Father, Son, & Holy Spirit.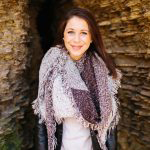 Briana is a Catholic youth minister at Our Lady of Mt. Carmel parish in Cleveland, OH. She is also a nanny and district manager at Arbonne. She received her Bachelor of Arts in Theology and Catechetics from the Franciscan University of Steubenville, OH and is excited to use these skills to bring her students closer to Christ and His Church. "My soul has been refined and I can raise my head like a flower after a storm." -St. Therese