In Today's Gospel, Jesus tells us that He is the way, the truth, and the life. It is here that He shares the intimacy between Himself and God the Father. He states multiple times that He and the Father are one, here we see our belief in Jesus Christ is God made Man. This Scripture points us to the humanity and divinity of Jesus, but also the Triune God (Father, Son, and Holy Spirit). Philip says to Jesus, "Show me the Father." Jesus responds,
"Believe me that I am in the Father and the Father is in me, or else, believe because of the works themselves. Amen, amen, I say to you,
whoever believes in me will do the works that I do, and will do greater ones than these, because I am going to the Father. And whatever you ask in my name, I will do, so that the Father may be glorified in the Son. If you ask anything of me in my name, I will do it."
Whoever believes in me will do the works that I do. How is our work? Does it resemble Christ's work? How are our actions and words? Are they mirroring Christs'? This Scripture is pretty self-explanatory and I'll leave it at that.
God, help us to look at our lives and see where we can improve as believers. Help us to identify where we need to resemble You more in our words and deeds. Give us the courage to be courageous and faithful to You today. Amen!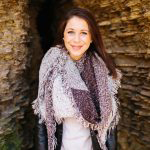 Briana is a Catholic youth minister at Our Lady of Mt. Carmel parish in Cleveland, OH. She is also a nanny and district manager at Arbonne. She received her Bachelor of Arts in Theology and Catechetics from the Franciscan University of Steubenville, OH and is excited to use these skills to bring her students closer to Christ and His Church. "My soul has been refined and I can raise my head like a flower after a storm." -St. Therese