I embarrassingly just did a happy dance in my chair as I write this blog publically in my local coffee shop. Why am I embarrassing myself? Because today's readings are epic and I am SO excited to reflect on them with you. The First Reading tells the conversion of one of my favorite saints, St. Paul. Formerly known as Saul, a Roman who sought the destruction and death of all Christians. If you don't know the details of this story, I encourage you to read them (Acts 9: 1-20). Saul was a murderer. He was seeking out the disciples of the Lord and on the way to Damascus when his whole life changed and would never be the same again.
What happened? He encountered the risen Lord, Jesus Christ. He saw a bright light, was thrown off his horse and was called by name. He was called by name and called out in love, "Saul, Saul, why are you persecuting me?" The voice of Jesus is proclaiming a cry of unity. When we harm one another, we harm the Body of Christ, the Church. After this, Saul could no longer see. It says that for three days he was unable to see and he did not eat or drink anything. It's common to focus on the moment of conversation between him and Jesus, but can you imagine how distraught he must have been in those three days?
I recently had my youth group students pair up for a blindfolded relay race. It was comical, to say the least. We shared about it in small group and the children shared how insanely scary and difficult it was to "lose their sight". They said they have new compassion for those who are physically blind. They only played that game for ten minutes, knowing the blindfold would be taken off at the end. I'm sure if I were in St. Paul's shoes, I probably would not be able to eat or drink anything either. I would be distraught not knowing if this blindness would heal.
God, in His goodness, sends His disciple Ananias to Saul. God tells Ananias that "this man is a chosen instrument of mine to carry my name before Gentiles, kinds, and children of Israel." Ananias was probably thinking, "Really?! This man who has murdered believers?!" Or maybe that's just me! When Ananias went to Saul, he laid hands on him. In this moment of receiving the Holy Spirit, Saul was healed of his blindness. He could see and "got up and was baptized, and when he had eaten, he recovered his strength."
I love the story of St. Paul. I love that he was extremely sinful, with one of the gravest sins- taking another's life. I've encountered so many people in my life who joke that they cannot go to Church because they'll "burst into flames". I tend to laugh at them, in a kind manner. If only they knew that one of the most important leaders of the Church was once murdering Christians. What does God teach us with the witness of St. Paul? No human is ever too far gone. No person is too lost or too deep into sin that God cannot change their heart and use them for the glory of His Kingdom.
We read in the Gospel story today the beautiful Scripture of Jesus proclaiming the truth of the Eucharist. No, the bread and wine are not symbols of Jesus' body and blood. They are literally the Flesh and Blood of the Son of Man. He tells us that whoever eats and drinks of His Body and Blood will not perish, but have life within. "Whoever eats my Flesh and drinks my Blood remains in me and I in him." When I think of St. Paul and his 3 days of distress, he did not eat. When He was healed through the Holy Spirit, he ate and regained his strength. God gives us an incredible gift. He gives us spiritual food that will regain our strength. Are we truly embracing this gift?! I know when I feel spiritually or emotionally down, I tend to hide from God. I tend to not eat the gifts given to. I tend to only go to Sunday Mass, instead of receiving the Eucharist more frequently. If we truly believe that this is Flesh and Blood of Jesus, how can we not crave to be at Mass more than once a week? If you are feeling weak, starving, or in distress- do not stay unfed. He offers us the Bread of Life, which gives an abundance of grace. My challenge for you & myself is to receive the Eucharist more than you are now. If you're a daily Mass goer, keep it up. If you only go to Mass on Sundays, if you can add one Mass into your weekly schedule- do it! Let's remain in Him and Him in us, let us strive to receive the Eucharist with open hearts. It is here that we, like St. Paul, encounter the Risen Lord.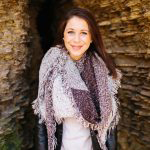 Briana is a Catholic youth minister at Our Lady of Mt. Carmel parish in Cleveland, OH. She is also a nanny and district manager at Arbonne. She received her Bachelor of Arts in Theology and Catechetics from the Franciscan University of Steubenville, OH and is excited to use these skills to bring her students closer to Christ and His Church. "My soul has been refined and I can raise my head like a flower after a storm." -St. Therese