Pain!
As the wood digs into my shoulder, I fall on the cold concrete with the weight of the cross crashing down on my back.
Sorrow!
Sorrow, for the things I have done and the things I know we all do. Sorrow knowing how many times I have rejected the most sincere and complete love.
Suffering!
Taking on the mindset of reparation for all the sins of the world, participating in the smallest of ways with the sorrow Jesus felt for those who will not accept salvation.
Love!
Such immense love for the people I serve with, the people God has put in my life, my family, my friends, those I barely know.
I have had the opportunity to play the part of Jesus over 5 times in the living stations on Good Friday. For some of them I got pulled in at the last second and all of a sudden found myself on stage half naked with actual whip marks on my back. Others were actually planned and I had time to put myself into a proper mindset. I was called to play these roles not so much out of holiness, but mostly because I had a beard.
Now, I am not going to even begin to compare myself to Jesus, but in the very smallest of ways I have been able to enter into the Passion. We all get this chance on Good Friday. As much as we should be focusing on our lives and how we can love better, it's also important to focus on what Christ did for us and enter into it in a unique way.
I came to a realization the other day while driving to work. When reading the words of Christ, "My God, My God, why have you forsaken me," I have always wondered if in this moment God the Father abandoned Jesus. This of course is not the case. I have heard the explanation that Jesus cried out in this way because He was so united with all of us that He yelled out from the cross in our place. This is our cry, and Jesus asks the question while simultaneously providing the answer.
If the God of the universe can humble himself so much to intimately participate in our very nature, shouldn't we flip that on this Good Friday and seek to intimately participate in His? Reflecting through His Passion and putting myself into His very mindset helps me to know in a small way the reality of the sacrifice of the cross.
This Good Friday, let's all try to focus on the Passion of Christ in a way that not only allows God to enter into our fallen nature (Human Nature), but also allows us, through His power, to start to enter into His (Divine Nature).
I want to share this video of the Stations of the Cross with you. This is one of my favorite reflections on the Passion of Christ, it is through the eyes of Mary. It was written by one of my dear friends from a Mission Trip we did, performed by my mission team. I hope it is beneficial to your faith life. God bless you all on this Good Friday!
DAY 1
Pray the Divine Mercy Chaplet along with this prayer for all mankind, especially sinners.
"Today bring to Me all mankind, especially all sinners,
and immerse them in the ocean of My mercy. In this way you will console Me in the bitter grief into which the loss of souls plunges Me."
Most Merciful Jesus, whose very nature it is to have compassion on us and to forgive us, do not look upon our sins but upon our trust which we place in Your infinite goodness. Receive us all into the abode of Your Most Compassionate Heart, and never let us escape from It. We beg this of You by Your love which unites You to the Father and the Holy Spirit.
Eternal Father, turn Your merciful gaze upon all mankind and especially upon poor sinners, all enfolded in the Most Compassionate Heart of Jesus. For the sake of His sorrowful Passion show us Your mercy, that we may praise the omnipotence of Your mercy for ever and ever. Amen.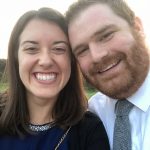 As a Solutions Evangelist for Diocesan, Tommy is committed to showing parish and diocesan staffs how to use our communication tools to their best advantage. He has worked for years in various, youth ministry, adult ministry, and diocesan roles. As an expert on Catholic communication, Tommy uses his parish and diocesan experiences to help you make your ministry effective. To bring Tommy to your parish or for general inquiry, contact him at tshultz@diocesan.com or find him online at www.rodzinkaministry.com.