Today is the feast of St. Anthony of Padua, priest and doctor of the Church. While we know him as St. Anthony of Padua, he is from Lisbon, Portugal. Lisbon, understandably, takes great pride in being the birthplace of St. Anthony and today is their national holiday. For the days leading up to his feast day, there are festivals in the streets, parades that lead to and from different churches around the city, and posters explaining when and where prayer vigils will be held throughout the week. It truly is beautiful to witness the faith so obviously present.
The first reading reminds us that we are to bring the light of Christ to the world in the same way that He Himself has set our hearts on fire for Him: "For God who said, Let light shine out of darkness, has shone in our hearts to bring to light the knowledge of the glory of God on the face of Jesus Christ." We as Christians know the Good News, we know that Christ is our Redeemer and it is our job to preach that to the world. It is through our words and through our deeds that those whose eyes are still veiled to the Gospel, to the Word of God will come to know and believe.
On sharing the faith St. Anthony said, "Without faith no one can enter the kingdom of God, it is the life of the soul. The Christian is one who, with the eye of the heart, enlightened by faith, understands the mysteries of God and makes a public profession."
This public profession of faith of which St. Anthony speaks can be the way we live our lives. He goes on to talk about the importance of charity in faith. It is a great act of charity to bring others to faith. In the Gospel, Christ teaches his disciples how to enact greater charity in their everyday lives. To be charitable and kind in their words and thoughts, to be charitable and forgiving to those who have done wrong against them, to be charitable and honest in dealings with others.
May we go about our day with charitable words, thoughts, and actions so that we might enter the Kingdom of Heaven and bring others with us.
St. Anthony of Padua, pray for us!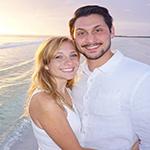 Dakota currently lives in Denver, CO is studying for her Master's in Spanish, and loves her job as an elementary school librarian. She is married to the love of her life, Ralph. In her spare time, she reads, goes to breweries, and watches baseball. Dakota's favorite saints are St. John Paul II (how could it not be?) and St. José Luis Sánchez del Río. She is passionate about her faith and considers herself blessed at any opportunity to share that faith with others. Check out more of her writing at https://dakotaleonard16.blogspot.com.