"Families are like branches on a tree. We grow in different directions, yet our roots remain as one." -Anonymous
Today's Gospel, once again, gives us the picture of Jesus preaching to a crowd when he is told: "Your mother and our brothers and your sisters are outside asking for you." Jesus, I am sure, after a short pause, points to the crowd and says "Here are my mother and my brothers. For whoever does the will of God is my brother and sister and mother."
We've seen movies, documentaries, and such, that will start with a picture of earth from space (imagine yourself on the space station). Then the camera comes closer and closer to earth, eventually focusing, perhaps on the United States…then your state…then your city…then your neighborhood. Now picture the focus on your home and family. There you are!
The question that has to come to mind when visualizing this beautiful panorama, and at the same time meditating on the words of Jesus in today's Gospel is, "just who is my family?" If we cannot come to the conclusion that all that the universe holds (perhaps the unknown "other beings" out there?), all that the world holds, all that your country, state, city, and neighborhood hold – is without a doubt – your Family, then we must pray harder for that realization.
Re-read the quote at the start of this reflection and think about the root of this tree. What is that root? It is God. God is the root of all of humanity. Whether we believe, literally, in the story of Adam and Eve, or whether we conceive something else as the creation of Man, God is still the beginning. And he will be the end. In between, we, as individuals, branch out our lives in many directions. But, still, He is the strength of the roots of that mighty tree holding us all together as one family. Man or woman, we are all of the "Family of Man" –all of one humanity.
For us Christians, we must ground ourselves in Jesus and all that he taught us. For us Christians, today, it means that we must embrace everyone we meet as family.
We must love them, help them, support and give comfort. It's a tall order when seen through that lens of the universe. We have to believe that it starts with the love of our immediate family which will eventually affect the lives of others. Mother Teresa once wrote: "If you want to change the world, go home and love your family." That's a good starting point, but it cannot end there.
Unbelievers who what to dissuade us of the importance of Jesus and God in our lives, are, ultimately, fighting a futile battle. Because we know that Jesus will prevail in the end and that God will have the final word. Following the Way of Jesus, and the Law of God, when lived faithfully, can have only one outcome – peace, justice and love for everyone. This truth has been "rooted" in us since our conception. We must help everyone realize this, in the lives we lead.
For – "…whoever does the will of God is my brother and sister and mother."
God Bless.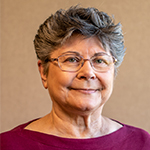 Jeanne Penoyar, an Accounts Manager here at Diocesan, is currently a Lector at St. Anthony of Padua parish in Grand Rapids, MI. While at St. Thomas the Apostle, Grand Rapids, Jeanne was a Lector, Cantor, Coordinator of Special Liturgies, Coordinator of lectors and, at one time, chair of the Liturgy Commission. In a past life, secretary/bookkeeper at the Basilica of St. Adalbert where she ran the RCIA program for the Steepletown parishes. And she loves to write! When relaxing, she likes reading and word puzzles. You can contact her at jpenoyar@diocesan.com.