San Juan de la Cruz, a Spanish Carmelite priest and monk of the 16th century, so perfectly incarnated that element in Christianity we call mystical that, on this day, we celebrate him not only as a Saint but also as a Doctor of the Church.
The eloquence and beauty of his writings, especially his poetry, are considered to be the ideal by which all else is measured within the Spanish language. It is even rumored that Pope Saint John Paul II learned Spanish with the primary goal of attaining the ability to read Saint John's works.
A man whose very life is summed up by his most famous work, La Noche Oscura del Alma or The Dark Night of the Soul, he aptly entered into his glorious heavenly reward during this season in which the whole world prepares and waits to enter from the darkness of Christ-less-ness into the light of Christmas, Emanuel, God is with us.
It is I who say to you, "Fear not, I will help you." The Father has created us for union with himself. His will longs for us to enter into the divine life he offers, a life of perfect love. Yet, we find ourselves in a world totally darkened by sin and its effects, effects that all of us have fully experienced in our lives and in the lives of those we love. What do we make of this darkness? What is our response to be?
We are called to follow after the way of the Father's own Son, Jesus Christ: willingly walking in the Father's will, even unto the depths of the most profound darkness, without fear, without anxiety, and with hearts full of faith, hope, and love. This is a task impossible for human beings, yes, but not for God. He will help us! His grace is sufficient, his power made perfect in weakness. He is the one who leads us, through the mysteries of his life he has come to be with us even now, and he has promised to bring us to himself for all eternity if we hold fast to our confession: JESUS CHRIST IS LORD.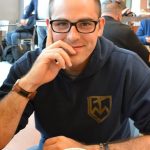 Clark Thompson graduated from Franciscan University of Steubenville in 2012 with degrees in Business Administration, Philosophy, and Theology. Baptized in the Christian Reformed Church, he received his sacraments of initiation at Franciscan in 2009. For the last four years he has studied for the Diocese of Kalamazoo, Michigan at both Mundelein Seminary in Chicago and Sacred Heart Major Seminary in Detroit. A list of his notable teachers includes Bishop Robert Barron, Father Emry de Gaál, Dr. John Bergsma, Deacon James Keating, Dr. Mary Healy, and the Chicago Missionaries of Charity sisters with whom he completed a year-long internship.