I love to daydream.
and text
and go on Facebook
and Instagram
and my bank app
and my email
and my photos
and read that random new story
……
All things that take me away from where I am.
I don't think my imagination or my phone are intrinsically evil… but at the wrong time, they can rob me of giving the most important gift I have to give to another: myself.
Much of my time at work is spent as a one-to-one support, just the other and myself sharing ordinary moments. When I first started, the whole experience was interesting to my intellect and fulfilling to my heart. But after you do the same thing every week for a year, the initial allure is lost and it can be easy to get bored.
I am tempted to "mentally" be elsewhere when we are cooking tacos for the billionth time, and I often give in… but it is exactly in those ordinary moments that I have an opportunity to love the person with whom I am sharing that moment of life.
Be present.
Give yourself to others.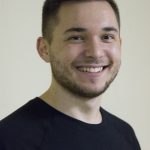 During the week, Matt is a mentor for individuals who have developmental and intellectual disabilities. On the weekends, he is a drummer for Full Armor Band.
You can find more content by Matt and his band at www.fullarmorband.com