Does anyone else feel as though these quarantine days are flying by? In the moment, each day feels so long, but when I look back at the last week, three weeks, seven weeks I've been in quarantine, it feels like time has flown by. Today, I find myself in the third week of Easter even though I feel that Easter was only last week!
Looking back at time, we are all forced to face the fact that while the past defines who we are, it is the present that shapes who we will become.
During Lent, I made a point to go to Mass each Sunday and take notes in my homily journal. I easily could have stopped once the pandemic and quarantine hit. There are a million excuses I could make of why my Lent just didn't pan out. Even when my sister invited me to the last public Mass in our county, I considered not going. Then, I thought, Where is this coming from? Get away, Satan, before telling my sister I'd be joining her.
This moment, like many others, has become a part of my past, but, at the time, it was my present. A choice made in a split second. A chosen path towards God.
Each of our moments build upon one another. Evil choices make choosing evil easier the next time around. The same can be said for choosing morals, love, and good.
Today, as we continue to celebrate the resurrection and true life of our Savior, I ask you to consider your choices and how they affect not just your present or your past, but how they define your future. I ask you to make the most of the present.
Together, we pray:
Dear Heavenly Father,
As you watch over us and see our stumbles,
give us the humility to ask for your helping hand.
Guide us on the path you have so lovingly provided.
Strengthen our hearts against Satan,
that we may choose to show the love
and mercy you shower upon us,
every moment of every day.
Amen.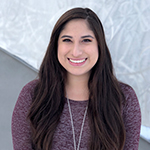 Veronica Alvarado is a born and raised Texan currently living in Michigan. Since graduating from Texas A&M University, Veronica has published various articles in the Catholic Diocese of Austin's official newspaper, the Catholic Spirit, and other local publications. She now works as the Content Specialist in Diocesan's Web Department.