Today's First Reading is one of my all-time favorites. I grew up going to Youth 2000 retreats with the Franciscan Friars of the Renewal (CFRs) in the Bronx. I will never forget the first time I heard this reading. I had probably *heard* it a thousand times before, but it struck such a chord with me that night as it was chanted. I still remember the exact tune, 15+ years later. It is crazy how some things just make an impression on you.
God was speaking to me in that soft voice of the Friar singing these words of St. Paul. Up until that point in my life, I had not really contemplated the humility of Jesus Christ, probably because humility is a hard virtue for me to grasp. Pride is one of the biggest struggles in my life, and I am constantly fighting my concupiscence to choose humility.
And then I look at Jesus, the most powerful being in all of existence. Even though He was God, He did not deem equality with God something to be grasped at. What does that actually mean? It means that He did not consider His power or omnipotence hindrances to offering Himself to the Father for our sake. He emptied Himself of Himself. What does this mean? It means that He, who lacked nothing, chose humanity. He chose to become one of us — a nothing!
Christ could have come to this earth with fire and brimstone, on a golden chariot in all of His Divine Glory, power, and wealth. But He came as a "still small voice." Who is discriminated against the most in our world today? The unborn babies. And yet who did Jesus come as? A poor, helpless babe.
Jesus chose to be dependent on a human mother and father. What is the root of the breakdown of our society? The downfall of the familial structure.
Furthermore, He was treated as nothing more than a slave; persecuted, beaten, and eventually executed. He chose death for us. That, my friends, is the price of humility.
And that is why, at the sound of the name of Jesus, every man in Heaven, in Hell, and on earth should fall to their knees. Paul calls to mind David's words in today's Psalm when He makes this claim, " The whole wide world will remember and return to Yahweh, all the families of nations bow down before him. For to Yahweh, ruler of the nations, belongs kingly power!
All…on earth will bow before him, all who go down to the dust will do reverence before him. And those who are dead, their descendants will serve him, will proclaim his name to generations." Even the demons cower in awe and reverence of Him! That is the glory, the honor, and the praise that is due only to Jesus Christ, because in Him alone is the Father "well pleased". And that is the return for humility.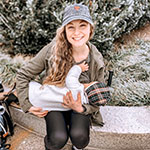 Sarah Rose hails from Long Island and graduated from Franciscan University in 2016 with a Bachelor's in Theology & Catechetics. She is happily married to her college sweetheart John Paul. They welcomed their first child, Judah Zion, in 2019. She is passionate about her big V-vocation: motherhood, and her little v-vocation: bringing people to encounter Christ through the true, the good, and the beautiful. She loves fictional novels, true crime podcasts/documentaries, the saints (especially Blessed Chiara Luce Badano), & sharing conversation over a good cup of coffee. She is currently the Coordinator of Young Adult Ministry at St. Cecilia Church in Oakley, Cincinnati. You can find out more about her ministry here: https://eastsidefaith.org/young-adult OR at https://www.facebook.com/stceciliayam.