This is my note to myself at the beginning of 1 John. John is making a point. The community that John is writing to is under attack from false teachers. There were those who denied Jesus was the Christ and those who denied he was a true man. By denying Jesus is the Christ, they deny his humanity in order to ensure his divinity which is docetism, or they viewed Jesus as a mere stepping stone to a higher knowledge of God, which is Gnosticism. While we don't know the specific heresy that John is speaking against, we do know that for John, true doctrine wasn't just a point to be discussed or a lesson to be taught; for John, doctrine is to be visible in our conduct.
It's all there is the beginning of the letter. "What was from the beginning", Jesus was from the beginning. He is God without beginning or ending. He also is what the apostles have heard, seen with their eyes and touched with their hands. He is true flesh, true man. If we believe both those things, then everything else has to revolve around that belief.
I wasn't raised in the Catholic Church and I remember going to Vacation Bible Schools or other events that would end in an altar call. I used to go up every time because as much as I wanted to be God's child, I couldn't see the evidence in my own life. I expected that when I accepted Jesus as my Savior that somehow, all my character flaws would melt away and I would be kinder, more patient, more loving. I took literally, "No one who remains in him sins." My logic was I was definitely a sinner, therefore I must not have seen or known him. So despite my mother's explanations that I didn't need to go up every time, I did. I kept hoping that it would "take" and I would suddenly be the kind of person I so wanted to be.
What a relief to know now that conversion is not a once and done event. That every day I can experience conversion to living as the saint I am called to be by baptism. Every night, I can examine my conscience, ask forgiveness for where I have failed to live out the doctrine I profess and continue the process of conversion in the new day.
Jesus came to be flesh like us so that like him, we can be children of God. In all our sinfulness, in all our brokenness, in all our misery, God wants us for his own. To do that, he sent Jesus to show us the way. He sends the Holy Spirit even now to guide and comfort us along that way.
So as the Christmas season comes to a close this Sunday with the arrival of the Magi, let us still take time to celebrate, to cherish our status as adopted children of He who created us.
Let us remember too, that we are all called to be saints, children of God. That means that my grumpy neighbor, the person who cuts in front of me in the check out lane, the person at work who just gets under my skin, that one lady who always sings too loud and off-key at Mass, they too are God's children, even if they don't know it yet. Living out the doctrine of Jesus Christ, true God and true man in my conduct, means I need to treat them with the dignity they deserve as a child of God, whether I like it or not.
Like John, my conduct needs to speak my doctrine and my doctrine needs to inform my conduct. In other words, dear Lord, please help me to walk my talk.
Merry Christmas!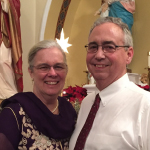 If you catch Sheryl sitting still, you are most likely to find her nose stuck in a book. It may be studying with her husband, Tom as he goes through Diaconate Formation, trying to stay one step ahead of her 5th and 6th-grade students at St Rose of Lima Catholic School or preparing for the teens she serves as Director of Youth Evangelization and Outreach in her parish collaborative. You can reach her through her through www.youthministrynacc.com.