I wonder about Simeon's life and the promise God made to him. I wonder if he ever felt this promise was more of a curse than a blessing. Or, as someone who God had directly spoken to, perhaps he also was given the deepest assurance that not one of his days waiting for the Messiah was wasted.
Can you imagine, being told you wouldn't die until a specific event happened? Would you live in fear of that event? Would you try to avoid circumstances that could bring it about? What if you didn't have any control over when it would happen, like Simeon? He was promised he would not die until he saw the Messiah. Did he hide in his house or go about his days, always wondering if today was the day? On the day Jesus was presented in the temple, Simeon, "came in the Spirit into the temple." Did he know that this day was The Day that was promised?
It's likely that the majority of the people reading this reflection do not have a projected timeline for their time on earth like Simeon. That doesn't mean we don't have specific work set out for us as Simeon did. The blessing and prophecy Simeon gave to Mary and Joseph would give them both strength and grace during Jesus' upbringing and into His adult ministry. Simeon knew he would see the Messiah, but he had no idea how we would still be pondering his words 2,000+ years later.
Simeon was told when he would die but did not know if it was to be the day after seeing the Christ-child or years later. From the reading, we don't know whether Simeon was a young or old man, but in traditional renditions of the story he is usually portrayed as an elderly, even frail, man. We are told that he was "righteous and devout." He was not spending his days in squalor, or living each day to its fullest by earthly standards. While he awaited his promised day, he lived a life for God.
We, too, have a promised day. We do not know when it will come or how, but we do have the day ahead of us in which we can choose how to live. Will we live like Simeon, righteous and devout, doing God's work during our time on earth or not? There really isn't an in-between.
The New Year is right around the corner and resolutions are swirling around us. As you ponder 2023, consider Simeon's example for a life well-lived.
---
Me pregunto sobre la vida de Simeón y la promesa que Dios le hizo. Me pregunto si alguna vez sintió que esta promesa era más una maldición que una bendición, o como alguien a quien Dios le había hablado directamente, quizás también se le dio la más profunda seguridad de que ninguno de sus días esperando al Mesías fue en vano.
¿Te imaginas cómo sería si te dijeran que no morirías hasta que suceda un evento específico? ¿Vivirías con miedo de ese evento? ¿Intentarías evitar las circunstancias que podrían provocarlo? ¿Qué pasaría si no tuvieras ningún control sobre cuándo sucedería, como Simeón? Se le prometió que no moriría hasta que viera al Mesías. ¿Se escondía en su casa o vivía sus días siempre preguntándose si hoy era el día? El día que Jesús fue presentado en el templo, Simeón "Movido por el Espíritu, fue al templo". ¿Sabía él que este día era El Día que fue prometido?
Es probable que la mayoría de las personas que lean esta reflexión no tengan una línea de tiempo proyectada para su tiempo en la tierra como Simeón. Eso no significa que no tengamos un trabajo específico establecido para nosotros como lo hizo Simeón. La bendición y la profecía que Simeón les dio a María y José les daría fuerza y gracia durante la crianza de Jesús y en Su ministerio adulto. Simeón sabía que iba a ver al Mesías, pero no tenía idea de que seguiríamos reflexionando sobre sus palabras más de 2000 años después.
A Simeón se le dijo cuándo moriría, pero no sabía si iba a ser inmediatamente después de ver al niño Jesús o años después. A partir de la lectura, no sabemos si Simeón era un hombre joven o un anciano, pero en las interpretaciones tradicionales de la historia generalmente se lo presenta como un anciano, incluso frágil. Se nos dice que era un "varón justo y temeroso de Dios". No estaba pasando sus días en la miseria, o viviendo cada día al máximo según los estándares terrenales. Mientras esperaba el día prometido, vivía su vida para Dios.
Nosotros también tenemos un día final. No sabemos cuándo llegará ni cómo, pero sí podemos elegir cómo vivir el día de hoy. ¿Viviremos como Simeón, justos y devotos, haciendo la obra de Dios durante nuestro tiempo en la tierra o no? Realmente no hay un intermedio.
El Año Nuevo está a la vuelta de la esquina y escuchamos propósitos tras propósito a nuestro alrededor. Mientras reflexionan sobre el 2023, consideren el ejemplo de Simeón de vivir de la mejor forma.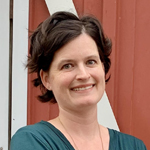 Kate Taliaferro is an Air Force wife and mother. She is blessed to be able to homeschool, bake bread and fold endless piles of laundry. When not planning a school day, writing a blog post or cooking pasta, Kate can be found curled up with a book or working with some kind of fiber craft. Kate blogs at DailyGraces.net.
Feature Image Credit: Dino Reichmuth, unsplash.com/photos/WP0WZ28lTUE