I think we can all agree that we are in the midst of a strange, confusing, uncertain, and in some ways, scary time. A lot of people are suffering from illness, from unstable financial or professional situations, from hopelessness, from boredom, from anxiety, and from a plethora of other things. It feels appropriate to me that this pandemic occurred during Lent, a time in which we have already given something up or added something to our daily routines so that we may better unite our sufferings to Christ in His suffering on the Cross. We live in a time of noise: traffic, radio, television, social media, news, etc. As a teacher on "extended Spring Break" for the next 3 weeks, I have found myself constantly checking my work email for more news about how the school year will progress, checking social media for updates about how my friends are keeping themselves entertained at home, checking my phone for more news about how this virus is spreading and how it is affecting our society. But as I thought about the readings today and about the man St. Joseph was, I realized that the only way we will get through these current times is with a peaceful mind and a joyful heart.
In the Gospels, St. Joseph says nothing. Not one word. Yet we know so much about his character from his actions. He was a generous man; when he found out Mary was pregnant before their marriage, he decided to "divorce her quietly" rather than cause a scandal and her to live in shame. He was a faithful man; when an angel appeared to him telling him not to be afraid to take Mary into his home, Joseph did exactly as the angel instructed him. He was a caring man; when Jesus remained in Jerusalem after Passover and Mary and Joseph were looking for their son, Joseph worried about Jesus. Despite the many hardships that Joseph endured and the many times he had to protect his family, he remained faithful to the Will of the Lord.
The responsorial psalm today says, "The promises of the Lord I will sing forever; through all generations, my mouth shall proclaim your faithfulness, for you have said, "My kindness is established forever"; in heaven you have confirmed your faithfulness."
This is something that Joseph understood and lived out every day of his life. May we look to St. Joseph as a source of hope and inspiration for faith in our Redeemer and His Will.
In this time of uncertainty and suffering may continue to unite our suffering ever more fully to Christ in His Passion.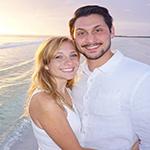 Dakota currently lives in Denver, CO and teaches English Language Development and Spanish to high schoolers. She is married to the love of her life, Ralph. In her spare time, she reads, goes to breweries, and watches baseball. Dakota's favorite saints are St. John Paul II (how could it not be?) and St. José Luis Sánchez del Río. She is passionate about her faith and considers herself blessed at any opportunity to share that faith with others. Check out more of her writing at https://dakotaleonard16.blogspot.com.