The Jewish people had been waiting, and waiting, and waiting for a Messiah. They memorized Scripture, kept all of the Mosaic Law, repeated the stories and traditions so that on the day of the Messiah's arrival, they would be ready. More than ready, they would be the people God called them to be! Jesus comes, the Messiah is truly present among them, and what happens? Not everyone recognizes him. Worse, those thought to be the most religiously "in tune" are the ones who are the most critical.
Jesus pushes his audience with today's teaching, and he pushes us as well. He draws our attention to the Ninevites, an Old Testament people who lived lives of wickedness and debauchery. God sent a reluctant Jonah to preach to them so that they could repent. When Jonah finally got to them and began his work, they recognized the truth of his words and the whole city repented and changed their ways. Jesus points to the wisdom and insight of the Ninevites. They heard words of truth and acted upon them. Yet here was Jesus, Messiah and Chosen One, in and among people trained to hear his words of truth, being questioned and doubted.
When I consider Jesus' words, I find myself wondering how often I expect a sign from Jesus. Do I ask him to prove himself, his faithfulness, his love? Do I make bargains with him, "I'll do X but only if you do Y." Do I question his presence with me or in the Eucharist?
We are blessed, privileged to know the full story of salvation. We know the Paschal Mystery, the mystery of Christ's Passion, Death and Resurrection. We have the words Jesus said, the things he did, the promises he made. What further signs could we want?
Even with all that Jesus gave us, still we doubt. As you journey through this Lenten season, take some time to reflect on your trust in Jesus' promises. Are you like the Ninevites, who recognized Truth when it was preached to them? Are you like the Pharisees, seeking signs when you already have everything you need? Somewhere in the middle? Take heart and trust in the Lord. He is with you, providing you with the Holy Spirit to face any challenge, walk any distance, until you meet the Father in heaven.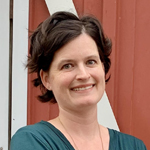 Kate Taliaferro is an Air Force wife and mother. She is blessed to be able to homeschool, bake bread and fold endless piles of laundry. When not planning a school day, writing a blog post or cooking pasta, Kate can be found curled up with a book or working with some kind of fiber craft. Kate blogs at DailyGraces.net.
Feature Image Credit: Pablo Santiago, https://www.pexels.com/photo/wood-architecture-luxury-travel-9582355/