The First Reading today always makes me think of the power of Sacred Scripture. Words which, though penned by various writers in various times and circumstances, are ultimately authored by God Himself!
Ever since I was in high school, the Scriptures have captured my imagination. That was thirty-five years ago when it wasn't common to see Catholics read and study the Bible on their own initiative. Thankfully, today there are many Catholics who know that the Bible is a Catholic book—compiled and disseminated by the Catholic Church and preserved and interpreted for over 2,000 by the same Catholic Church!
If we are interested in knowing God and want to hear his voice, the Scripture is like Aladdin's cave. A veritable treasure trove of truth, wisdom, and knowledge.
As I have traveled the course of my life, reading Scripture and trying to understand it with the mind of the Church, I have learned to depend on God's Word more and more. One of the ways Scripture has gained practical application in my life is in spiritual battle. As Christians, we know we are in a spiritual battle at all times. We are constantly being tempted to selfishness, pride, despair, and various other sins. When we use the Word of God to fight our own human weakness and to come against the evil forces who tempt us, we tap into a unique and awesome power. As God Himself says in today's reading, "[My word] shall not return to me void, but shall do my will, achieving the end for which I sent it."
When we are feeling vulnerable, there is supernatural power that comes from declaring, "If God is for us, who can be against us?" (Rom 8:31) If we are tempted to doubt God's providence, there is supernatural change that we can experience by reminding ourselves to, "Rejoice in the Lord, always. I shall say it again: rejoice!…The Lord is near. Have no anxiety at all…" (Phil 4:4-6). And when our children are bombarded by the godless ideology of our day, we can teach them to memorize "Resist the devil and he will flee from you. Draw near to God and he will draw near to you" (James 4:7-8). As the next generation begins to engage in the spiritual battle, we must equip them with supernatural weapons.
Recently, as my petite, faith-filled mother-in-law was dying from cancer, I knew that she was tempted to fear. I posted a verse of Scripture from the book of Daniel where she could read it every day. Even when she was unable to see it or to speak, I would periodically recite it to her. "Do not fear, greatly beloved, you are safe. Be strong and courageous." God's words. Words to help us die. Words to help us live!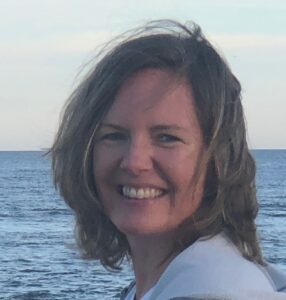 Christine Hanus is a thwarted idealist who, nevertheless, lives quite happily in Upstate NY. She is a wife and mother of five grown children.
Feature Image Credit: Nicholas Safran, https://unsplash.com/photos/hZEDtbQbWko