In today's short Gospel, we have much to ponder. A woman from the crowd, acknowledging Jesus' goodness, acknowledges also the presumed blessedness of his mother. It is a compliment of the highest order, perhaps inspired by Mary's presence there, a way of honoring Jesus' history, his mother, his belonging.
At first it may seem that Jesus is dismissing this compliment, as if he is saying, "Actually, the blessed ones are those who hear and keep God's word, and not my mother." But isn't Mary the first one to "hear the word of God and observe it"? In fact, Jesus is acknowledging that the real reason Mary is to be honored is not her biological motherhood, but her total faithfulness to the Word of God. His words apply in the deepest way to her: "Blessed are those who hear the Word of God and observe it." She is the one who heard the Word of God, opened herself to it fully, received that Word so completely that it became Flesh within her. Mary is the first disciple, the one who believed, whose loving and obedient "yes" made the Incarnation possible. By looking at Mary, we can see the whole mystery of our redemption, from the Son's conception in her womb to our own conception in the womb of Mother Church, "until Christ be fully formed in us" (Gal 4:19).
Mary encountered the Word of God, accepted it, assented to it, and never wavered, all the way to the Cross and beyond. Her whole life is summed up in her words at the Annunciation: "I am the handmaid of the Lord. Let it be done to me according to your word" (Luke 1:38). Later, Jesus taught us to pray: "Thy will be done" (Matt. 6:10). Our own daily "yes" should echo this complete willingness to do the Father's will. But we must remember that God doesn't want us to do His will because He wants submissive subjects; He wants children who live the joy and peace of a life of love. Love is not just obedience (though lovers often submit to the desires of the other); love is encounter, relationship, and union! Jesus reminds us that this life of real loving union begins with hearing God's word and aligning our lives with it. In keeping the commands of love, we find the One who IS Love, and our hearts and wills are one with His. This is the "blessedness" and joy and peace Jesus desires for each of us.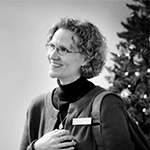 Kathryn Mulderink, MA, is married to Robert, Station Manager for Holy Family Radio. Together they have seven children (including newly ordained Father Rob and seminarian Luke ;-), and two grandchildren. She is a Secular Discalced Carmelite and has published five books and many articles. Over the last 25 years, she has worked as a teacher, headmistress, catechist, Pastoral Associate, and DRE. Currently, she serves the Church as a writer and voice talent for Catholic Radio, by publishing and speaking, and by collaborating with the diocesan Office of Catechesis, various parishes, and other ministries to lead others to encounter Christ and engage their faith. Her website is https://www.kathryntherese.com/.