This time of year always has me reflecting on change. I watch in awe as day after day the trees turn into a brilliant array of colors, then fall one by one as the brisk winds carry them away. Our family also celebrates several birthdays. Two of my in-laws, myself, my young son and my Dad all increase their ages by one this month. The trees prepare for winter and the calendar pages turn.
The change of seasons has me reflecting on internal change as well. As the leaves transform from a healthy spring green to a crisp brown on the ground, I wonder if there is something within me that needs to fall as well. Which elements of my character, which poignant words, which vices should just fall to the ground to be trampled underfoot?
The words of the First Reading are powerful: "I have called you by your name… I am the Lord…" I am so tempted to think that I am talented or capable or hardworking. It is so easy to criticize, complain and be filled with negativity. In those moments of weakness, I forget this amazing truth. He has called me by name!
One who is called is also chosen. One who is chosen should follow in the footsteps of the One who chose him. My life should emulate His words and actions so as to be a good example and a source of joy to all I encounter.
Listen to the words of St. Paul in today's Second Reading: "We give thanks to God always for all of you, remembering you in our prayers, unceasingly calling to mind your work of faith and labor of love, and endurance in hope of our Lord Jesus Christ, before our God and Father, knowing, brothers and sisters, how you were chosen."
Perhaps on this Sunday it would be a good exercise for us to reflect on these questions: Do others give thanks to God for me because of how I emulate His love? Do you remember others in your prayers, especially those you may struggle with? Does your life include works of faith and labors of love? Do you have an enduring hope in our Lord? Do you realize that you are chosen and live accordingly?
As I type I immediately realize that I have a long way to go. But we can never reach the finish line until we approach the starting line. May this season of change bring many changes in our hearts as well so that we may grow ever closer to our Lord and inspire others to as well.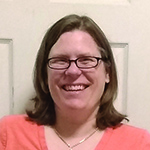 Tami Urcia grew up in Western Michigan, a middle child in a large Catholic family. She spent early young adulthood as a missionary in Mexico, studying theology and philosophy, then worked and traveled extensively before finishing her Bachelor's Degree in Western Kentucky. She loves tackling home improvement projects, finding fun ways to keep her four boys occupied, quiet conversation with the hubby and finding unique ways to love. She works at Diocesan, is a guest blogger on CatholicMom.com and BlessedIsShe.net, runs her own blog at https://togetherandalways.wordpress.com and has been doing Spanish translations on the side for almost 20 years.