Today, we celebrate the Feast of Saint Andrew, an apostle of Christ. In the readings, we see Saint Andrew called from his father's boat along with his more celebrated brother, Saint Peter, and the sons of Thunder, Saints James and John.
Though his role is seemingly insignificant compared to his brother, according to the Gospel of St. John, St. Andrew is one of the first evangelists, and without his witness, the gospels would have played out very differently. As a follower of St. John the Baptist, St. Andrew met Jesus early in his public ministry and led a very important convert to him:
"John was standing with two of his disciples. He looked at Jesus as he walked and said, 'Behold the Lamb of God!' The two disciples heard him say this, and they followed Jesus… One of the two who heard John speak, and followed him was Andrew, Simon Peter's brother. He first found his brother Simon and said to him, 'We have found the Messiah.'" (John 1:35-37, 40-41)
St. Andrew's witness touched St. Peter so deeply, that when Christ came to their boats and invited them to follow him in the Gospel of St. Matthew, they dropped their nets without hesitation. Once that decision was made, there was no turning back. Their faith is admirable and it's all thanks to St. Andrew's initial witness.
The passage is very simple, but there is incredible beauty in their obedience and trust in the Lord when he tells them, "Come after me."
God's transforming power is on full display in the calling of Saints Andrew, Peter, James, and John. They started as simple, humble fishermen who toiled every day on the Sea of Galilee as their fathers did, and likely as their fathers did before them. But the Lord called them to a deeper purpose and made them a promise that they will become, "fishers of men." He called them to become instruments through which God would gather people into himself.
It was a call that Saint Andrew carried with him through present day Turkey and Russia. In the end, like Saint Peter, he was arrested and crucified, but refused to die in the same way that the Lord had died. Saint Peter was crucified upside down. Saint Andrew was crucified on an X- shaped cross.
Let's ponder Saint Andrew's life and how we can imitate him. As a Christian, you know in the depths of your soul that Jesus is the Messiah, the one who comes to save. Who has given you a profound witness to the power of Christ that left you inspired to follow him? How willing are you to share the truth of Christ with those whom you love?
Saint Andrew, the Apostle. Pray for us.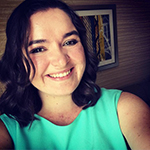 Hannah Crites is a native to Denver Colorado and graduate of Franciscan University of Steubenville. She has written for numerous publications and blogs including the Chastity Project, Washington Times, Faith & Culture: The Journal of the Augustine Institute, and Franciscan Magazine. She is currently working in content and digital marketing for a small web development and digital marketing agency. Connect with her through Twitter (@hannah_crites) and Facebook. Check out more of what she has written here.