Today's Psalm is eerily poignant for our current state of affairs.
The Psalmist is wallowing in his own misery while exiled in Babylon. There are many things he could have been weeping about.

Perhaps it was over the deaths of loved ones. We can relate to that right now, in the throws of a worldwide pandemic that has claimed the lives of so many.
Or perhaps he was weeping over the destroyed city & great temple of Jerusalem, and the loss of almost everything he owned. I'm sure small business owners whose stores have been ravaged and destroyed during the nationwide riots can sympathize with that.
He proceeds to remember in lamentation the great Zion, which was one of the hills that they had built the city of Jerusalem on. In Jerusalem, they were free to pluck their harps in joyful song to the Lord. The Psalmist is looking back on his past with longing of once-had pleasure and blessings, sitting in the present of forced captivity and cruelty, and looking toward the future with bleak hopelessness.
I don't know about you, but that sounds almost exactly like what I have been feeling these past few months. Even the simple pleasures that we took for granted, like going to the park or enjoying a meal with loved ones, seem so distant. If God is good, how can He allow all of the brokenness, hurt, anger, and sickness that are surrounding us on every side? If we were created for love, why is there so much hatred amongst mankind right now? This is the age old question, isn't it?
Like today's Psalmist, I cry out to the heavens from my 3 bedroom place of captivity in desperation. I throw yet another load of laundry in the dryer, wash yet another dish, scramble to answer yet another email during naptime. How can I sing a joyful song to the Lord in this time, when I am barely able to mutter a sleepy Hail Mary as I trail off to sleep during my Rosary?
And then I remember my "Zion". My 16 month old, bright-eyed, food-loving angel. Some mornings, he is the only thing that gets me out of bed. I turn on praise music and watch him raise his arms and sway with a reckless abandon that I wish I had. His first name (Judah) means 'praise', and he is the hill on which my hope is found right now.
How is it possible to cling to faith in the face of desperation? Look into the eyes of a child.
The world insists that "what you see is what you get!" If that were true right now, I don't know if we would be able to find any reason to keep on living in today's world. However, faith says otherwise – what we see is not what we get. We long for what is unseen by our mortal eyes. We await what we do not know because we have yet to experience it, almost like a baby that has yet to be born has no experience of the world.
In the Old Testament, hopelessness is often expressed by the narrator lifting up his voice and crying out to the Lord in desperation. Brothers and sisters, right now we are being called to echo the Psalmist. This is the great paradox of hope – being called to hang on to the branch even as it is beginning to break. In this year of 2020, we are being brought to our knees so that we can praise Him in the driest of valleys. Have faith that our Heavenly Father will come to draw you out. Your Zion will come again. But for now, let our tongue be silenced if we ever forget Him.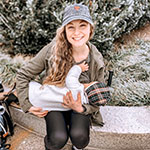 Sarah Rose hails from Long Island and graduated from Franciscan University in 2016 with a Bachelor's in Theology & Catechetics. She is happily married to her college sweetheart John Paul. They welcomed their first child, Judah Zion, in 2019. She is passionate about her big V-vocation: motherhood, and her little v-vocation: bringing people to encounter Christ through the true, the good, and the beautiful. She loves fictional novels, true crime podcasts/documentaries, the saints (especially Blessed Chiara Luce Badano), & sharing conversation over a good cup of coffee. She is currently the Coordinator of Young Adult Ministry at St. Cecilia Church in Oakley, Cincinnati. You can find out more about her ministry here: https://eastsidefaith.org/young-adult OR at https://www.facebook.com/stceciliayam.