The other day, my fiance and I had a Pre-Cana meeting with our beloved priest friend. If you didn't know, the Church requires at least 6 months of preparation time for this sacrament. In that time you are encouraged to meet with the priest of your parish, take a pre-marriage inventory, and have a prepare and enrichment retreat. We are FOUR MONTHS away from the big day! During our fun light-hearted meeting, Father read off one of the statements, "I believe that I have learned my partner's heart completely." As I grew up, I always heard my mother make the comment, "I love your father more today than I did on our wedding day." As a kid, I found it a little confusing. Now as a young adult, I see the beauty of that statement. Throughout my parents' marriage; day after day, trial after trial, they had to choose one another. They have learned so much more about one another than they had known the day they made those vows. It's a beautiful aspect of the sacrament.
Why am I sharing all this? Well, today's readings point to this exact aspect of our intimate relationship with Jesus. After reflecting on these readings, I realized they all encompass one thing- the Heart of God (Father, Son, and Holy Spirit). The First Reading from Micah proclaims the beautiful question, "Who is there like YOU, the God who removes guilt, and pardons sin… Who does NOT persist in anger forever, but delights in mercy… You cast into the depths of the sea all our sins…" The Responsorial Psalm sings boldly the truth that "The Lord is kind and merciful" and the Gospel reading is one so well known, the Parable of the Lost Son. It is the story most of us know and if you don't, I encourage you to go and read Luke 15:1-3, 11-32. This story puts into concrete action the First Reading and the Responsorial Psalm. Jesus shows us in a deeper way the heart of His Father and our relationship as His children. He shows us what a Father who removes guilt & pardons sins genuinely looks like. A Father who does not linger in anger and frustration, but one who rejoices in infinite mercy.
Maybe you're thinking that this is nothing new for you, maybe it is something you have already been told or have already heard. I would like to take a moment to quote my mother again, "I love your father more today than I did on our wedding day." How does this relate? Well, my friends, the beautiful miraculous thing about the heart of God is that we will NEVER know it completely- not until Heaven. This should have you jumping up and down- for real! God in His infinite mercy and goodness allows us to go deeper. We are given His heart every day and in this relationship, like a marriage, we can always discover and learn more about our beloved's heart. We don't know it all on the day we start our lives together, and that's okay! It's actually so dang beautiful! It's the same with God… we may think we know His love, but He's got more in store. We may think we know His mercy- and maybe we do! But there are depths that we have not even discovered! When I think of how much I have encountered the heart of God, I picture myself still at the shore of the sea. Sure, I might be swimming and feeling like I'm in deep water. But in reality, I'm a few inches from my feet touching the sand. There are depths I still need to seek, parts of His heart that I have not uncovered. This relationship is a relationship of reciprocal love. Please do yourself a favor, look up at the Cross and admit that you have not learned all the aspects our loving God's heart. This is an amazing gift! Let's discover the depth of His love as we swim deeper. Let us not stay docked at the shore, but cast out into the deep. Let's discover more of His heart throughout this Lent. There is no end to our beloved Bridegroom's heart and love for us.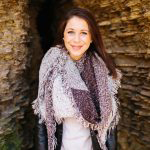 Briana is a Catholic youth minister at Our Lady of Mt. Carmel parish in Cleveland, OH. She is also a district manager at Arbonne. She received her Bachelor of Arts in Theology and Catechetics from the Franciscan University of Steubenville, OH and is excited to use these skills to bring her students closer to Christ and His Church. "My soul has been refined and I can raise my head like a flower after a storm." -St. Therese