"Behold now is a very acceptable time; Behold, now is the day of salvation."
Today is a significant day for us Catholics. It is a day that we wear a sign of ashes upon our foreheads. It is a day that we show vulnerability to the world of who we are- a people who return. We are humans whose hearts must return again and again back to God. This is an acceptable time, a time of true salvation. This truth is proclaimed in our Scripture readings today and it made me pause and think about how radical this simple phrase is. God is telling us that right now- right at this moment- it is acceptable… As human beings, we are very good at excuses. Our lives are filled with chores, deadlines, quotas, school plays, soccer games, and commutes. We have tons of responses to explain why right now isn't "a good time". But as usual, God calls us out (in the most loving way). He calls us out of our fog and apathy. He tells us that right now actually isn't just a good time- it is the best time.
In the Gospel reading, we hear Jesus informing His disciples on how to authentically fast and pray. He warns them not to be hypocrites. He is warning us too! He explains that we must not pray so that other people will see us, but to pray in secret. I love that Jesus says this to us. Honestly, I am not proud to share this, but I can get very wrapped up in comparing my "holiness" to the holiness of those around me. Jesus gently reminds us that it's not about them. It's about you and Him. It's not about someone's opinion of your "level of holiness". It's about your personal and intimate time with Jesus, which no one needs to see for validation. I hope that as you begin this Lenten season you may enter into a secret place of prayer. A secret place in your home or your heart that you reside with Him, that you don't need to boast about. A place where you can just be and you can return to Him again.
Every hour, minute, and second is the most perfect time for us to return to Him. This is what Lent is all about. This is what Ash Wednesday is all about, remembering that we are dust and to dust, we shall return. It is now that Christ calls our hearts back to Him. "Even now, says the LORD, return to me with your WHOLE heart, with fasting, and weeping, and mourning." When we simply decide to not make excuses, but to genuinely turn our hearts and eyes back to God, we encounter Him again. I've realized in my life that if I am not allowing myself to authentically encounter Jesus, my heart is far from His. An encounter is one of absolute goodness. Encountering Him is encountering graciousness, mercy, and freedom. He is slow to anger and rich in kindness. He does not come to condemn us, but to cleanse us. He cleans out all the gunk and crud that has been overlooked for too long. He wants to give us clean hearts and steadfast spirits. There is no better time than right now to bring your heart back to Him. I pray that you have a blessed Lenten season, focused on returning your heart to Him. I will strive to enter that sacred secret place and I hope you will too. Behold, now is a very acceptable time. Behold, now is the day of salvation.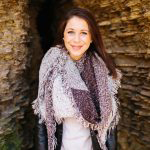 Briana is a Catholic youth minister at Our Lady of Mt. Carmel parish in Cleveland, OH. She is also a nanny and district manager at Arbonne. She received her Bachelor of Arts in Theology and Catechetics from the Franciscan University of Steubenville, OH and is excited to use these skills to bring her students closer to Christ and His Church. "My soul has been refined and I can raise my head like a flower after a storm." -St. Therese