I love my job!
I probably have one of the coolest jobs in the world… and most people would agree.
I am a direct support professional. I serve individuals who have developmental and intellectual disabilities (i.e. autism, muscular dystrophy) by helping them manage life out in public.
This opportunity is many things: it is fun, it is fulfilling, it is at times confusing and challenging. But especially for the Lent season, it is an opportunity to put others before me.
The program that I work under is called "Self-Direction". As the title implies, the individual I am serving decides how we will spend the session. If he wants to have tacos every week for an entire year, then we are having tacos every week.
I often say that my life is other people's lives. I don't have heroic opportunities to be selfless but instead very small, frequent occasions for sacrifice.
And that isn't bad! I mean, don't get me wrong. I totally fantasize about a legendary, divinizing sacrifice that would cement my person into the framework of modern history, like the death of Dr. Martin Luther King Jr. or St. Maximilian Kolbe…
But God gives me opportunities for small deaths, like eating tacos for the 20th week in a row (not an exaggeration).
The Queen of ordinary sacrifices, St. Teresa of Calcutta, once said
"JOY: Jesus, others, yourself."
Ain't it the truth?
Living a life of joy requires a kind of death, a death to our own selfishness.
Find opportunities to sacrifice your preference to care for others.
Be like Christ!
Be awesome!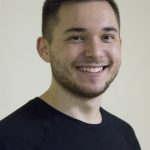 During the week, Matt is a mentor for individuals who have developmental and intellectual disabilities. On the weekends, he is a drummer for Full Armor Band.
You can find more content by Matt and his band at
www.fullarmorband.com