"Behold, I am sending you like sheep in the midst of wolves; so be shrewd as serpents and simple as doves."
Similes are very specific types of metaphors. (English teacher moment; all similes are metaphors, but not all metaphors are similes.) Metaphors allow us to express the nuances of emotions, experiences and images when we don't have a shared vocabulary to explain. Similes deepen our understanding by drawing a connection between something we don't have the words to understand and something which can be understood through our standard vocabulary.
Certainly, there was no standard vocabulary to explain Jesus or his mission. He was here to take everything that people thought they knew and show them they had only scratched the surface. "Do not think that I have come to abolish the law or the prophets. I have come not to abolish but to fulfill." (Matt 5:17)
The first half of this verse from today's reading seems pretty clear. When we go out to live as Christians in the world, we are heading out looking like prey in the midst of a world full of predators. This passage comes after the Sermon on the Mount as Jesus was sending out his disciples to be apostles spreading the word of the kingdom of God. It is the same message for us. When we preach love in a world structured on competition and topping one another, in a culture where making sure that our needs are met and no one infringes on our rights, we Christians are looked at as if we have sprouted a third arm from the middle of our forehead and treated as if we are incapable of understanding "the real world". What we as Christians know, is this isn't the real world. This world is where we pray, "to thee do we cry, poor banished children of Eve, to thee do we send up our sighs, mourning and weeping in this valley of tears." This world is our valley of tears! We are not to be in search of comfort and happiness (big difference between happiness and joy, but that is the stuff of another reflection), we recognize this world is where we suffer so that we can join our suffering to that of Christ.
Which brings us to needing to be "shrewd as serpents". I grew up terrified of snakes. My dad (who in reality was more frightened than I was) always told me, "They are more afraid of you than you are of them." As a general rule, snakes avoid humans. Science confirms they are wary of men and strike only as a last-ditch effort to defend themselves. Being wary is pretty good advice for us too. We have a mission. We are here to further God's kingdom, to live and love as Jesus. We need to be cunning as serpents and be wary of the agenda's and plans of men and focus on God. Jesus confirms this latter in the Gospel passage, "You will be hated by all because of my name, but whoever endures to the end will be saved." (Matt 10:22) Being shrewd as a serpent allows us to be as simple as doves and stay focused on being who Jesus calls us to be, fulfilling the mission he has set before us, living a life of faith.
Faith is a theological virtue, infused in us at our baptism. It isn't something we conjure up on our own, it is an entirely free gift from God to man. (CCC 162) We can lose this gift, as St. Paul told Timothy, through rejecting our conscience. (1 Tim 1:18-19) When we lose our focus, we lose our faith. Faith makes us taste in advance the light of the beatific vision. (CCC 163). It gives us hope in the midst of this valley of tears. Faith shows itself through works of charity, actively loving all we meet.
So let us embrace this simile and bravely venture forth as sheep among the wolves, grounded in the gift of faith, strong in the hope of the world to come. We can be cunning as serpents and be wary of the ways of men so that we maintain the simplicity of doves and remain focused on God. In doing this, we give back to God the gifts we have received, we give our very selves in service of the Kingdom.
In the words of Dorothy Day, "It is a hard doctrine, this loving your enemies, this being as simple as doves, wise as serpents… It is hard to love Pharisees and scribes, the hypocrites, and cynics too. O God take away my heart of stone and give me a heart of flesh!" (1951)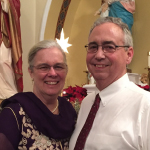 Sheryl delights in being the number 1 cheerleader and supporter for her husband, Tom who is a candidate for the Permanent Diaconate in the Diocese of Kalamazoo. They are so grateful for the opportunity to grow together in this process whether it is studying for classes, deepening their prayer life or discovering new ways to serve together. Sheryl's day job is serving her community as the principal for St. Therese Catholic School in Wayland, Michigan. Since every time she thinks she gets life all figured out, she realizes just how far she has to go, St. Rita of Cascia is her go-to Saint for intercession and help. Home includes Brea, a Bernese Mountain dog and Carlyn, a very, very goofy Golden Retriever.