Before the world began – before God spoke creation into existence – we were CHOSEN. Chosen BY God, chosen FOR God.
"God chose us in him before the world began to be holy and blameless in his sight" (Eph 1).
Before the world began – before the Spirit hovered over the waters – God considered the possibility of each of us, decided on us, chose us to exist, desired us to be part of His amazing creation.
God willed each of us to BE. And His will is love.
Even more astounding, He RE-created us in the Blood of His only-begotten Son, through whom and for everything was created.
"All things were created through him and for him" (Col 1:16).
We were each made THROUGH Christ and FOR Christ, to remain IN Christ. And if we are IN HIM through Baptism, we are also children in the bosom of the Father, a child held close, held near, held dear.
"All things were made through him, and without him was not anything made that was made… to all who received him, who believed in his name, he gave power to become CHILDREN OF GOD" (John 1).
We are children of God! Jesus tells his disciples in today's Gospel that "Your Father knows what you need before you ask him." Of course, He does. We are His. We belong to Him. We are His children. He made us and loves us, with all of our gifts and gaffes. He knows everything, from the number of hairs on our head to why we threw a tantrum when we were in diapers to what we need today to be radiant in His grace. He knows us better than we know ourselves, and He alone can provide all we need to become what He creates and calls us to be. He IS love, and He loves us, and He provides all we need.
We are God's children, born of love and loved by Him, begotten by Him in our faith in Christ, abiding in Him in our love for Christ and for one another.
"If we love one another, God abides in us and his love is perfected in us… Every one who believes that Jesus is the Christ has been born of God" (1 Jn 4-5).
Our belonging to God is eternal and irrevocable if we choose to do the hard work of loving as He loves.
Everything contrary to this is a lie of the Enemy of our souls.
We belonged to God before the world began. We will never stop belonging to Him. He knows all we need even before we ask, and His Fatherly desire is for us to put all our trust in Him as His children so that He can provide everything for us.
What is beyond the power of God? Nothing.
What is hidden from God? Nothing.
What can separate us from God's love? Nothing.
What then can we fear? Nothing.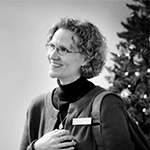 Kathryn Mulderink, MA, is married to Robert, Station Manager for Holy Family Radio. Together they have seven children (including newly ordained Father Rob and seminarian Luke ;-), and two grandchildren. She is a Secular Discalced Carmelite and has published five books and many articles. Over the last 25 years, she has worked as a teacher, headmistress, catechist, Pastoral Associate, and DRE. Currently, she serves the Church as a writer and voice talent for Catholic Radio, by publishing and speaking, and by collaborating with the diocesan Office of Catechesis, various parishes, and other ministries to lead others to encounter Christ and engage their faith. Her website is https://www.kathryntherese.com/.