"Faith is to believe what you do not yet see; the reward of faith is to see what you believe." -St. Augustine of Hippo
Today's readings are glorious! They share with us the good news of salvation and instill within us a beautiful hope of that which is to come. In the first reading from 1 John, we hear what we must do in order to love God fully. Then, we hear what our reward will be if we truly love God and sincerely believe in Him. John reminds us that when we follow the commandments, we are able to love others and be witnesses of the goodness of God through our actions. It is in following God's commandments and loving one another that the faith will be victorious: "The victory that conquers the world is our faith." This victory of which John speaks is eternal life with God in Heaven; it is God's desire for each and every one of us. And, through John, He is telling mankind exactly how to conquer the world: with love.
In the Gospel today, Jesus literally brings the Good News to the people of God. The passage that Jesus reads from Isaiah tells us what He was sent into the world to do and what we, in turn, are called to continue doing in Christ's name. Christ also makes clear who He is and what His mission is: "Today, this scripture passage is fulfilled in your hearing." Not everyone who heard Jesus' proclamation accepted Him as Lord. In fact, many rejected Him. I think my favorite thing about this Gospel is that it occurs in Nazareth–in the place where Jesus grew up–thereby showing us that we, too, should begin at home. Faith begins at home, with the family, with the people we are surrounded by on a daily basis. Christ shows us the importance of evangelizing at home and living the Gospel through action, regardless of the possibility of rejection.
As we enter into the new calendar year, may we remember the Good News of Salvation and invite others to share in the Good News as well.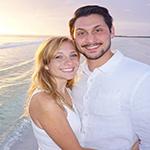 Dakota currently lives in Denver, CO and teaches English Language Development and Spanish to high schoolers. She is married to the love of her life, Ralph. In her spare time, she reads, goes to breweries, and watches baseball. Dakota's favorite saints are St. John Paul II (how could it not be?) and St. José Luis Sánchez del Río. She is passionate about her faith and considers herself blessed at any opportunity to share that faith with others. Check out more of her writing at https://dakotaleonard16.blogspot.com.