Christmas morning, we wake to gifts under the tree, gifts nestled into stockings, and the celebration of the greatest gift of all—Jesus. God's gifts are abundant; there is no spending limit. He does not budget His generosity. God, the Father who wants for nothing, out of pure love, bestows an abundance of gifts upon each and every one of us. His innumerable gifts include life, faith, hope, joy, and of course, love. However, the gift that stands out most during this time of the year is the gift of grace, exemplified so beautifully in the Blessed Mother.
Grace, in essence, is the undeserved yet freely given gift of God's Holy Spirit living within us, which moves and animates our being. The indwelling of the Holy Spirit, the One who knows God so perfectly, because the Spirit is God, sent as our Counselor. If we cooperate with the indwelling of the Spirit within us, if we abide in the Word and accept these beautiful gifts of God, we too will experience the mystery and magnitude of a life of grace. We merely need to look upon Mary's fiat to understand the power of a life full of the grace of God!
Mary, on the birth of her Son, Jesus—God incarnate—kept all these things in her heart. She bestowed with an unmatched outpouring of grace at her conception, so to be born without the stain of sin was prepared to receive Jesus. From this example, one can ascertain the importance of grace necessary to prepare one's heart to receive Jesus. However, we cannot forget nor underestimate the importance of free will and the significance of one's willingness to cooperate with this supernatural gift. Although God, out of love for all his children, may have bestowed this gift upon Mary, yet she still needed to receive, open, and cooperate with this incredible gift. Ponder the words, "Hail Mary, full of grace. The Lord is with you," and consider this profound example of how we, too, can be touched by grace and carry the Lord within.
Let us wrap up our reflection with a contemplation on the workings of gift-giving. Gifts are only useful if they are, simply put—used. Left wrapped under the Christmas tree; each would remain a mystery, never accomplishing their intended purpose, perhaps even considered wasted. With the wonder and enthusiasm of a child, let us tear into the gifts of God, beholding the beauty and strength found in presents of love, faith, hope, joy, and of course, grace. With faith and wisdom like a child, filled with uncontainable expectation, who would never leave a gift unopened, let us rejoice and receive all the gifts God has prepared for us this day!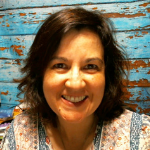 Allison Gingras works for WINE: Women In the New Evangelization as National WINE Steward of the Virtual Vineyard. She is a Social Media Consultant for the Diocese of Fall River and CatholicMom.com. She is a writer, speaker, and podcaster, who founded ReconciledToYou.com and developed the Stay Connected Journals for Catholic Women (OSV).
Feature Image Credit: articgoneape, https://pixabay.com/photos/baby-baby-jesus-bethlehem-birth-4258530/
The views and opinions expressed in the Inspiration Daily blog are solely those of the original authors and contributors. These views and opinions do not necessarily represent those of Diocesan, the Diocesan staff, or other contributors to this blog.