Holy Week is a dramatic week. Jesus entered into Jerusalem, and from that point forward every action is oriented toward His sacrifice on the Cross. Up to this point, He had been leading up to His final sacrifice, but this was not always visible to His disciples. Now, His purpose was clear to all around Him, and they reacted accordingly. This is something for us to ponder as we experience Holy Week, hearing the familiar readings of the road to the Passion. Perhaps Christ has become familiar to us, so much so that we forget the impact of Who He truly is, God made man, the Son of the Father, the Kings of Kings, the Savior, the Messiah.
The people of Jerusalem recognized Christ's kingship and messianic authority as soon as He entered Jerusalem. He entered on a donkey, fulfilling the prophecy of Zechariah, and the people spread their cloaks upon the ground, accented with palm branches, a symbol of victory. They addressed Him as the Son of David, an explicitly messianic title, and told onlookers that He was a prophet. Already, the people recognized that Jesus was king, priest, and prophet, following in the lines of David, Melchizedek, and all of the prophets.
Peter, passionate and outspoken, told Jesus that He would never betray or abandon Him. He wanted to follow Him as his King and Lord wherever He went. Although he ended up denying Christ three times, he realized the gravity of his denial quickly, and wept bitterly for his disrespect and betrayal.
Not all treated Jesus with such reverence. Some treated Jesus with contempt, showing a deep hatred and cruelty in the proceedings of His trial and execution. The chief priests and the elders sent armed men to arrest Jesus, putting Him through a late-night examination, where He was subjected to heckling and physical assault. Later, they arranged for His scourging, after which the Roman soldiers placed on His head a sharp crown of thorns and beat Him with a reed. The criminals crucified with Him mocked Him along with the bystanders, telling Him to use His claimed divinity to save Himself.
We should realize that in their contempt, they were, in a sense, responding accordingly, even as others did Him homage. Jesus presented Himself as the King of kings, the Messiah, God in the flesh. Those who believed Him did Him homage befitting God Himself, and those who did not treated Him as a nefarious blasphemer, and if their assessment was right, that's exactly what He was.
Judas saw both sides of this, first brutally betraying his Lord and then regretting his action to the point of suicide. Being a Zealot, Judas was part of a sect of Judaism that used extreme measures to bring about the coming of the Messiah. As the Zealots interpreted the Scriptures, the Messiah's coming included violent uprising. Perhaps Judas believed Jesus to be such an impostor that he thought it better for the cause if He were dead. Realizing after the fact that Jesus was telling the truth, He understood that He had arranged for the execution of God Himself.
Each of these people we encounter on the road to the Cross understood that Christ was making a staggering claim, messiahship, prophecy, kingship, divinity. They reacted intensely, with deep conviction, because they knew that history depended on whether this man was right or wrong. Let us enter into Holy Week with open eyes to see Him, and open hearts to give Him the homage He deserves as our King, Messiah, and God.
---
La Semana Santa es una semana dramática. Jesús entró en Jerusalén, y a partir de ahí toda acción suya se orientaba hacia su sacrificio en la Cruz. Hasta este punto, había estado conduciendo a Su sacrificio final, pero esto no siempre fue visible para Sus discípulos. Ahora, Su propósito era claro para todos los que lo rodeaban, y reaccionaron en consecuencia. Esto es algo para que reflexionemos mientras vivimos la Semana Santa, escuchando las lecturas familiares de su camino a la Pasión. Quizás Cristo se nos ha hecho familiar, tanto que olvidamos el impacto de Quién es, Dios hecho hombre, el Hijo del Padre, Rey de los Reyes, el Salvador, el Mesías.
El pueblo de Jerusalén reconoció la realeza y la autoridad mesiánica de Cristo tan pronto como entró en Jerusalén. Entró montado en un asno, cumpliendo la profecía de Zacarías, y el pueblo tendió sus mantos por el suelo, acentuados con ramas de palma, símbolo de victoria. Se dirigieron a Él como el Hijo de David, un título explícitamente mesiánico, y dijeron a los espectadores que era un profeta. El pueblo ya reconocía que Jesús era rey, sacerdote y profeta, siguiendo la línea de David, Melquisedec y todos los profetas.
Pedro, apasionado y franco, le dijo a Jesús que nunca lo traicionaría ni lo abandonaría. Quería seguirlo como su Rey y Señor dondequiera que fuera. Aunque terminó negando a Cristo tres veces, rápidamente se dio cuenta de la gravedad de su negación y lloró amargamente por su falta de respeto y traición.
No todos trataron a Jesús con tanta reverencia. Algunos trataron a Jesús con desprecio, mostrando un profundo odio y crueldad en los procedimientos de Su juicio y ejecución. Los sumos sacerdotes y los ancianos enviaron hombres armados para arrestar a Jesús, sometiéndolo a un interrogatorio nocturno, donde fue objeto de abucheos y agresiones físicas. Más tarde, dispusieron Su flagelación, después de lo cual los soldados romanos colocaron sobre Su cabeza una corona afilada de espinas y lo golpearon con una caña. Los criminales crucificados con Él se burlaron de Él junto con los transeúntes, diciéndole que usara Su supuesta divinidad para salvarse a Sí mismo.
Debemos darnos cuenta de que en su desprecio, en cierto sentido, estaban respondiendo en consecuencia, incluso cuando otros le rendían homenaje. Jesús se presentó como el Rey de reyes, el Mesías, Dios hecho carne. Los que le creyeron le rindieron homenaje digno de Dios mismo, y los que no le creyeron lo trataron como a un infame blasfemo, y si su apreciación fue acertada, eso es exactamente lo que fue.
Judas vio ambos lados de esto, primero traicionando brutalmente a su Señor y luego lamentando su acción hasta el punto de suicidarse. Siendo un fanático, Judas era parte de una secta del judaísmo que usó medidas extremas para lograr la venida del Mesías. Tal como los zelotes interpretaron las Escrituras, la venida del Mesías incluyó un levantamiento violento. Quizás Judas creyó que Jesús era un impostor tan grande que pensó que era mejor para la causa si estaba muerto. Al darse cuenta después del hecho de que Jesús estaba diciendo la verdad, comprendió que había dispuesto la ejecución de Dios mismo.
Cada una de estas personas con las que nos encontramos en el camino a la cruz entendió que Cristo estaba haciendo una declaración asombrosa, el mesianismo, la profecía, la realeza, la divinidad. Reaccionaron intensamente, con profunda convicción, porque sabían que la historia dependía de si este hombre tenía razón o no. Entremos en la Semana Santa con los ojos abiertos para verlo y el corazón abierto para rendirle el homenaje que merece como nuestro Rey, Mesías y Dios.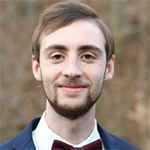 David Dashiell is a freelance author and editor in Nashville, Tennessee. He has a master's degree in theology from Franciscan University, and is the editor of the anthology Ever Ancient, Ever New: Why Younger Generations Are Embracing Traditional Catholicism.
Feature Image Credit: edgarsontiveros, cathopic.com/photo/9233-corona-de-espinas