Cognitive dissonance is the psychological term for the mental stress or discomfort we feel when we are confronted with new information which conflicts with our current ideas, beliefs or values. Holy Week is full of cognitive dissonance. It had to have been for the disciples and perhaps it should be for us too.
We who have the vantage of hindsight, we already know what happens on Easter morning. We can easily lose the discomfort of this week. We already know the Easter Light will dawn and that the Light brings our salvation. But have we considered; salvation from what and salvation for what? Why do we even need saving? What are we being saved for? These questions should bring on some cognitive dissonance of our own.
What if we deal with our own cognitive dissonance by suspending what we think we know for just a week? This Holy Week, allow the miracle of the Mass to transport you back to that first Last Supper. As the priest speaks the words of consecration, allow yourself to hear Jesus speak. Wonder at his words. Suspend modern thinking and put yourself in the place of the disciples. What does Jesus mean? How can this be? What is happening next? Allow the liturgy of this most Holy Week to wash over you anew. Offer Jesus your time, your attention, your wonder, your questions and even your disbelief, your own cognitive dissonance. As you put away what you think you know, and walk with Jesus through his Passion with fresh eyes and an open heart, you will create space within yourself for God to work his grace in new and unexpected ways.
Then when Easter morning dawns, your heart will echo the Psalmist, "The Lord is my light and salvation," with a new depth and meaning. Having given Jesus your very self, you will now be ready to carry out his Love into the world. After all, isn't that the point? He didn't save us just for ourselves, we become one with Jesus, so he can pour his light of grace into our hearts and minds so that we can help build his Kingdom in the here and now. In saving us, he gives us the mission to help him save others, both in this world and for the next.
May you have a truly blessed Holy Week.
---
La disonancia cognitiva es el término psicológico para el estrés mental o la incomodidad que sentimos cuando nos enfrentamos nueva información que entra en conflicto con nuestras ideas, creencias o valores actuales. La Semana Santa está llena de disonancia cognitiva. Tenía que haber sido para los discípulos y quizás también debería ser para nosotros.
Los que tenemos la ventaja de la retrospectiva, ya sabemos lo que sucede en la mañana de Pascua. Fácilmente podemos perder las molestias de esta semana. Ya sabemos que la Luz Pascual amanecerá y que la Luz trae nuestra salvación. Pero hemos considerado; ¿salvación de qué y salvación para qué? ¿Por qué necesitamos salvarnos? ¿Para qué estamos siendo salvos? Estas preguntas deberían generar alguna disonancia cognitiva propia.
¿Qué pasa si lidiamos con nuestra propia disonancia cognitiva suspendiendo lo que creemos que sabemos por tan solo una semana? Esta Semana Santa, deja que el milagro de la Misa te transporte a esa primera Última Cena. Mientras el sacerdote pronuncia las palabras de consagración, permítete escuchar a Jesús hablar. Maravillado por sus palabras. Suspender el pensamiento moderno y ponerse en el lugar de los discípulos. ¿Qué significa Jesús? ¿Cómo puede ser esto? ¿Qué está pasando después? Deja que la liturgia de esta Semana Santa te inunde de nuevo. Ofrece a Jesús tu tiempo, tu atención, tu asombro, tus preguntas y hasta tu incredulidad, tu propia disonancia cognitiva. A medida que dejas de lado lo que crees que sabes y caminas con Jesús a través de su Pasión con ojos frescos y un corazón abierto, crearás espacio dentro de ti para que Dios obre su gracia en formas nuevas e inesperadas.
Luego, cuando amanezca la mañana de Pascua, tu corazón hará eco del salmista: "El Señor es mi luz y mi salvación", con una nueva profundidad y significado. Habiéndote dado a Jesús ti mismo, ahora estarás preparado para realizar su Amor en el mundo. Después de todo, ¿no es ese el punto? Él no nos salvó solo para nosotros mismos, nos hacemos uno con Jesús, para que pueda derramar su luz de gracia en nuestros corazones y mentes para que podamos ayudar a construir su Reino aquí y ahora. Al salvarnos, nos da la misión de ayudarlo a salvar a otros, tanto en este mundo como en el venidero.
Que tengas una Semana Santa verdaderamente bendecida.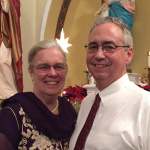 Sheryl is happy to be the number 1 cheerleader and supporter for her husband, Tom who is a candidate for the Permanent Diaconate in the Diocese of Kalamazoo. They are so grateful for the opportunity to grow together in this process. Sheryl's day job is serving her community as the principal for St. Therese Catholic School in Wayland, Michigan. Since every time she thinks she gets life all figured out, she realizes just how far she has to go, St. Rita of Cascia is her go-to Saint for intercession and help. Home includes Carlyn, a very, very goofy Golden Retriever and Lucy, our not-so-little rescue puppy.
Feature Image Credit: Isabella and Zsa Fischer, unsplash.com/photos/JNwGMYwtKV0